2 with area ties on 'watch list' for Kareem Abdul-Jabbar national award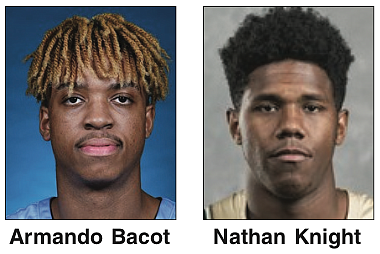 Armando Bacot has made a big splash during his freshman season at the University of North Carolina.
The former Trinity Episcopal School standout is one of 20 players on the Kareem Abdul-Jabbar Watch List.
The award is given to the top center in NCAA Division I.
Bacot averages 11 points and eight rebounds per game for Coach Roy Williams' ACC Tarheels.
Standing 6-foot-10, Bacot played three seasons at Trinity in South Richmond before transferring to IMG Academy in Florida during his senior year.
Also making the Abdul-Jabbar Watch List is 6-foot-10 Col- lege of William & Mary center Nathan Knight, a senior from Syracuse, N.Y.
Knight averages 21 points and 11 rebounds for the Tribe.
The annual Kareem Abdul-Jabbar Award is named after one of basketball's all-time greats. Abdul-Jabbar led UCLA to three NCAA titles (1967 through 1969) and went on to become the NBA's all-time scorer with 38,387 points.
Last year's Abdul-Jabbar winner was Ethan Happ of the University of Wisconsin.