Love Stories
The Free Press proudly presents its annual Valentine's Day feature sharing the Love Stories of four Richmond area couples.
2/14/2020, 6 a.m. | Updated on 2/14/2020, 2:57 p.m.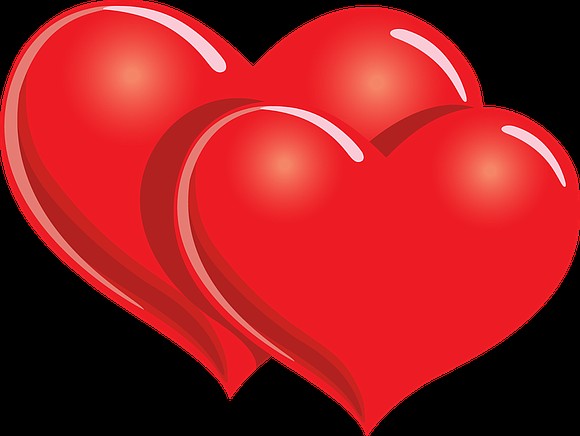 Their passion for social justice and their new found relationship led to marriage, and they traveled far and wide, initially living in Southern Florida and between New York and Pennsylvania. Through an internship with their church, they traveled for two years to Colombia and then to Venezuela, where many members of Mati's family lived.
They lived many years in Louisville, Ky. Eventually, studies for Mati led them to Cambridge, Mass., and Princeton and Madison, N.J. During these years, they welcomed their children, Alexa, Omar and Ali, into the world.
John, Mati and family happily arrived in Richmond in the summer of 2014, initially motivated to be closer to John's family in Williamsburg. They immediately felt at home and bought their first home in North Chesterfield.
Now, three children, three dogs and many moves later, they are about to celebrate 30 years of marriage as they continue to love the world together where working toward social justice continues to be their focus.
John Taylor is associate director of Side by Side. Dr. Matilde Moros is an assistant professor in the Department of Gender, Sexuality and Women's Studies at Virginia Commonwealth University.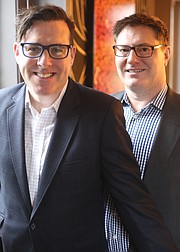 Anti-Valentine's Day party sparks heartbeats and love
Jonathan Adams-Boyles and James Adams-Boyles
Married 7 Years
We knew each other at the University of Virginia, but the spark didn't hit until after Jonathan had graduated and moved to Brooklyn, N.Y.
Ironically, the spark hit at an Anti-Valentine's Day party in 1996, when Jonathan returned to Charlottesville to DJ the party. James was finishing his final year at U.Va. and attended the party at Jonathan's invitation.
From there, we had a long-distance courtship full of postcards, letters and mixtapes. (The cassette titled, "The Beautiful Boy Blues" still holds up.) By the end of 1996, James moved to Brooklyn.
After 17 years of courtship — and the arrival of marriage equality — we got married in 2013 at the top of Fort Greene Park in Brooklyn. One year later, our twin sons, Oliver and Channing, were born and have kept us busy ever since. In 2018, we moved to Richmond for Jonathan's job and to be closer to family.
Valentine's Day is a special day in our house. It's our original anniversary and it's also the birthday for our dog, Buzz St. Valentine, who turns 13 this year.
The last 24 years have been a whirlwind. We've hiked Mount Kilimanjaro, danced the night away and seen many sunrises. Being alive is hard work and being married is even harder, but with laughter, joy, service and more dancing, it can seem easier. And, according to Jonathan, James' smile doesn't hurt.
Jonathan Adams-Boyles ,left, is an employee benefits and executive compensation attorney at Troutman Sanders. James Adams-Boyles is a stay-at-home dad and serves on the board at St. Thomas Day School.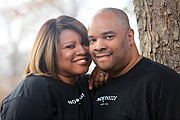 From paperboy to life partner
Charles J. Lambert and Erika Nixon Lambert
Married 9 Months
I met Charles when I was 8 years old. He was our neighborhood paperboy on Noble Avenue in Richmond's North Side. Our education took us in different directions; Charles attended North Carolina A&T State University and I attended Virginia Commonwealth University.