Bloomberg met with support, opposition in Richmond
Conor Lobb/Capital News Service | 2/21/2020, 6 a.m.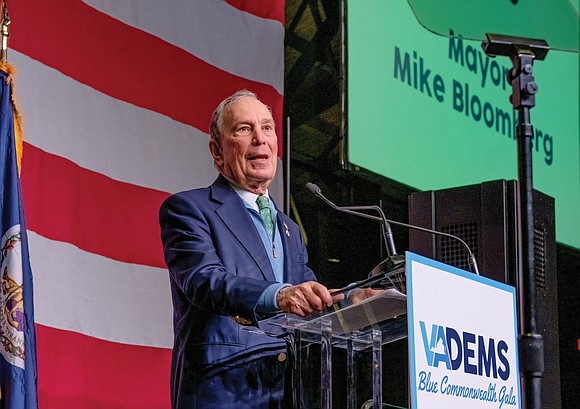 Roughly two weeks before Super Tuesday, former New York Mayor Michael Bloomberg was in Richmond looking for support from voters and from many of the lawmakers whose campaigns he helped fund.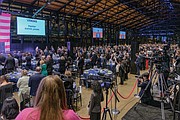 The Democratic presidential candidate campaigned last Saturday around the city, stopping first for an afternoon speech before about 900 people at Hardywood Park Craft Brewery before giving the keynote speech at the sold out Blue Common- wealth Gala before a crowd of 1,500 people at Main Street Station in Downtown.
The gala is an annual fund- raiser hosted by the Democratic Party of Virginia.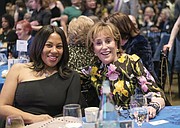 "This is the event that keeps the lights on," said Andrew Whitley, executive director of the Democratic Party of Virginia.
During both events, Mr. Bloomberg apologized for the controversial stop-and-frisk policy in place when he was mayor. He said the policy dis- proportionately affected young men of color. Stop-and-frisk was used by police to stop, question and search people on the street for weapons and other contraband if the officer believed a person was dangerous or had reasonable suspicion that they committed a crime. The practice has been denounced by various organizations and civil liberties groups as racial profiling because it disproportionately targets people of color.
In 2011, during Mr. Bloomberg's ninth year as mayor, the New York Police Department stopped morethan 685,000 people under the policy, according to the New York Civil Liberties Union.
A majority of those searches, 87 percent, were performed on African-American or Latinx people. The NYCLU said that 88 percent of people stopped had done nothing wrong.
"I defended it for too long, I think, because I didn't understand the unintended pain it caused to young black and brown kids and to their families," Mr. Bloomberg said. "And for that, I have apologized."
Mr. Bloomberg pledged that if elected, he'd prioritize dismantling systems of bias and oppression. He did not elaborate on what those systems are or how he would change them.
The Virginia Citizens Defense League, a gun rights advocacy group, protested at both events. VCDL protesters, who are opposed to Mr. Bloomberg's efforts nationally for tougher gun control policy, entered Hardywood Brewery and called Mr. Bloomberg a fascist while he was speaking. They were removed from the brewery by Bloomberg supporters and staff and resumed their post outside. They did not enter Main Street Station but lined the street outside, where other anti-Bloomberg protesters were gathered.
Anti-Bloomberg sentiment also was visible inside the gala. Jasmine Leeward, a board member of Richmond ForAll, approached the podium while Mr. Bloomberg was speaking and attached a sign stating, "He protects racist systems, will you?"
The sign was quickly taken down, and Ms. Leeward was escorted away from the stage.
Richmond For All is a coalition that fights for housing, education, environmental rights and racial justice.
Following the event, Ms. Leeward explained the sign, saying that Mr. Bloomberg protects racist systems by only offering an apology and "not actually repaying for the harms that were caused by his stop-and-frisk policies."