Katherine G. Johnson, trailblazing NASA mathematician immortalized in the film 'Hidden Figures,' dies at 101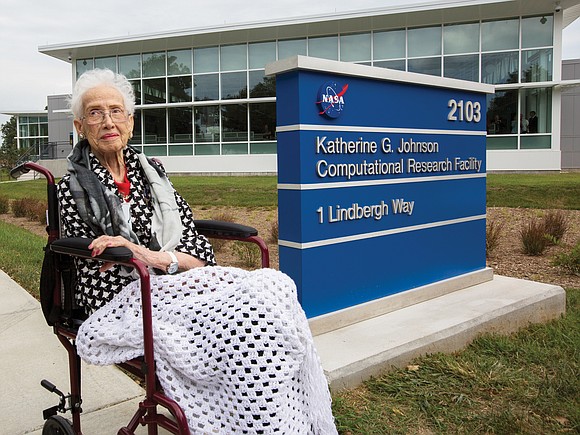 Katherine G. Johnson, the mathematical genius whose calculations took her from a behind-the-scenes job in a segregated NASA as portrayed in the film "Hidden Figures" to a key role in sending humans to the moon, died on Monday, Feb. 24, 2020, at her residence at an assisted living facility in Newport News.
She was 101, and an inspiration to people of all ages everywhere.
As her family worked out funeral details this week, tributes began pouring in.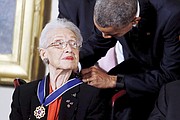 "After a lifetime of reaching for the stars, today, Katherine Johnson landed among them," former President Obama posted on Twitter. "She spent decades as a hidden figure, breaking barriers behind the scenes. But by the end of her life, she had become a hero to millions — including Michelle and me."
Mrs. Johnson was awarded a Presidential Medal of Freedom by the former president in November 2015, and in 2016 he cited her in his State of the Union address as an example of America's spirit of discovery.
"Her pioneering legacy will never be forgotten," NASA Administrator Jim Bridenstine posted to Twitter in announcing her death on Monday. He wrote the NASA family will never forget her "courage and the milestones we could not have reached without her. Her story and her grace continue to inspire the world."
"She's one of the greatest minds ever to grace our agency or our country," then NASA Administrator Charles Bolden said when Mrs. Johnson was presented with the medal by President Obama.
In 2017, NASA named a research facility for Mrs. Johnson at the NASA Langley Research Facility in Hampton, and a year later, her alma mater, West Virginia State University, marked her 100th birthday in August 2018 by establishing a scholarship in her name and erecting a statue.
"Katherine Johnson was a pioneer for her work @NASA_Langley that broke barriers of race and gender and helped take us to the moon," Gov. Ralph S. Northam posted on Twitter. "Across our Commonwealth and around the world, we mourn her loss and honor her remarkable life."
Mrs. Johnson and her female African-American colleagues at the fledgling NASA were known as "computers" when that term was used not for a programmed electronic device but for a woman who did computations. They were little known to the public for decades, but gained overdue recognition
when the book "Hidden Figures" was published and the 2016 Oscar-nominated movie starring Taraji P. Henson as Mrs. Johnson, hit the screens. Mrs. Johnson attended the 2017 Academy Awards ceremony in Hollywood, joining the film's cast in presenting an award for documentaries. Mrs. Johnson was given a standing ovation.
She had a groundbreaking career of 33 years with the space agency, from 1953 until her retirement in 1986. Her work influenced every major space program — from American's first manned space flight by Mercury astronaut Alan B. Shepard Jr. in 1961 to the first moon landing in 1969 by Apollo 11 astronauts and the early years of the Space Shuttle program.
Astronaut John Glenn thought so much of Mrs. Johnson and her work that he insisted she be consulted before his historic Earth-orbiting flight in 1962.