Personality: Savon Shelton Sampson
Spotlight on president of the Junior League of Richmond
1/2/2020, 6 a.m.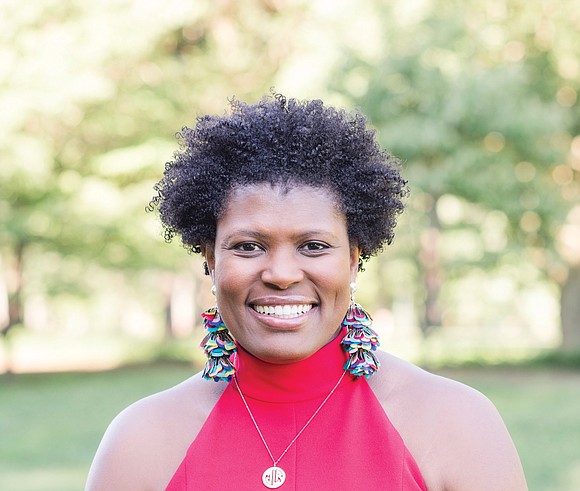 As 2020 begins, Savon Shelton Sampson is readying for an "exciting" new year serving as president of the Junior League of Richmond.
"It's a new decade," the Glen Allen resident says. "It's endless amounts of opportunity for us to really close the gap in amplifying our impact in the community."
The 37-year-old, who began her one-year term as JLR president in May, is leading the nonprofit organization's efforts to promote and develop volunteer work among women leaders to improve the Greater Richmond community.
JLR was formed in 1926 by 59 women, becoming part of the wider Association of Junior Leagues International a year later. The Richmond group now boasts 852 members dedicated to local community service and a variety of annual events it uses to achieve its mission.
The Henrico native first joined JLR in the summer of 2010 following a yearlong venture in Minneapolis. She joined at the suggestion of a friend.
What Mrs. Sampson initially saw as an avenue to make new friends and contribute to the community has grown to a deep dedication to an organization for which she has served as a new member adviser, vice president of membership and chair of multiple committees over the course of nearly a decade.
"The league has been such a safe place for me to grow and develop as a leader," Mrs. Sampson says. "It's a place where you can fail. It's a place where you can learn. It's a place where you can succeed. It's a place where you can innovate all while still doing your day job or whatever passions that you have."
Mrs. Sampson's tenure at the helm already has led to several accomplishments for JLR, from efforts to ensure the group's financial stability "for the next 93 years," she says, to a record-breaking "Touch A Truck" fundraiser at the Richmond Raceway to opening "The Rolling Rack," a mobile companion to The Clothes Rack thrift store the group operates.
The Junior League most recently expanded its community focus area from the city's East End to the Greater Richmond community in September as part of a new initiative, "Women Helping Women and Girls."
While Mrs. Sampson's tenure ends in mid-2020, she has multiple plans for where she wants to take JLR before she steps down, ranging from improving member engagement to a four-point strategic plan for the next four years that includes greater communication with local partners and new methods to increase JLR's visibility.
These projects will work to address what Mrs. Sampson sees as JLR's greatest challenge: Improving its impact in the Greater Richmond community.
She says more than half of JLR's members are "sustainers," who regularly pay dues but largely serve in an advisory capacity. That's a marked contrast to the more active members Mrs. Sampson says JLR needs "to pinpoint our impact" in Richmond and more easily explain the good JLR does to the public at large.
"We're not able to say that right now and that's really where we'd like to be," Mrs. Sampson says.