Ben Stanley steps up for Hampton Pirates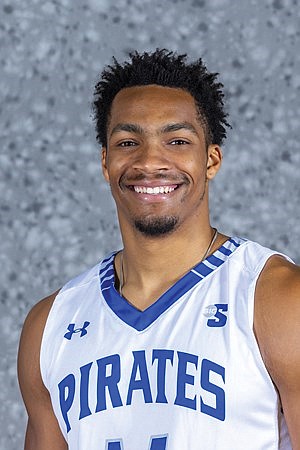 When Jermaine Marrow went down, Hampton University needed a volunteer to step up.
Ben Stanley was the first to raise his hand.
In Marrow's absence, the 6-foot-6 Stanley, a red-shirt sophomore from Millwood School in Midlothian, has emerged as an elite player for the Pirates under Coach Buck Joyner.
Stanley is the winner of HoopHD.com's end of year 2019 award as Big South Conference Player of the Year. The accolade is based on performance during the first half of the 2019-20 season.
On the season, Stanley, who goes by "Benji," averages 23 points — hitting 59 percent from the floor — and eight rebounds.
Hampton's fortunes took a terrible setback in November when Marrow, in pursuit of Rick Mahorn's all-time HU scoring record, suffered a broken hand.
Marrow was averaging 25 points per game prior to his injury.
Since then, Stanley has averaged 29.4 points, including a 40-point burst against Howard University and 33 points against Saint Peter's University of New Jersey.
Stanley, originally from Baltimore, didn't let off the gas with Marrow's return last Saturday. In the Big South opener, Stanley had 22 points and 13 rebounds, while Marrow had 14 points and 14 as- sists in the Pirates' 92-85 win over visiting Charleston Southern University.
Marrow's 14 assists were one off of the school record of 15 set by Marseilles Brown in 2000. Marrow, a 5-foot-11 guard from Newport News, now has 2,175 career points. Mahorn established the school record of 2,418 from 1976 to 1980.
With a healthy Marrow and a surging Stanley, the Pirates threaten to make some noise in their second season in the Big South Conference.