Crowd urged to work for 'Monumental Justice'
George Copeland Jr. | 1/10/2020, 6 a.m.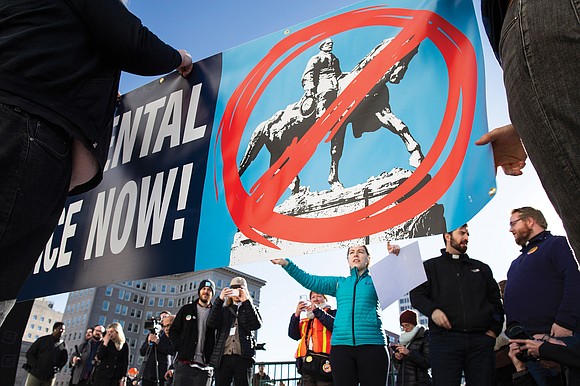 More than 100 people gathered at the State Capitol on Wednesday afternoon in support of legislation that would give control of the dozens of Confederate monuments in Virginia to localities.
"We are here today to reclaim our power and defeat white supremacy," said Dr. Wes Bellamy, former Charlottesville City Council member and vice mayor who now heads the political science department at Virginia State University, as cheers cut through the brisk midday wind.
Two bills — sponsored in the House of Delegates by Delegates Sally Hudson of Charlottesville and Jerrauld C. "Jay" Jones of Norfolk, and in the Senate by Sens. Mamie E. Locke of Hampton and Creigh Deeds of Bath County — would amend a Virginia law on war memorials to move control over monuments in public spaces from the state government to cities and counties.
Gov. Ralph S. Northam already has indicated he will sign such a bill into law if it is approved by the General Assembly.
Officials and activists who addressed the crowd emphasized the opportunity for change a Democratic controlled legislature now presents and the need for constituents to show their support for the measures.
"When you're here face to face, we can't ignore you," said Delegate Hudson. "So for the precious eight weeks that we are here in Richmond, please come and share those stories. Don't let this be the last day we see you."
Joseph Rogers of Richmond reminded rally-goers that resistance to Virginia's growing diversity is centuries old, recounting the experiences of his ancestor, James Fields of Hanover County, who twice escaped enslavement and later served in the General Assembly from 1879 to 1880 and again from 1889 to 1890. It was a time when legislators worked to assert a narrative that ran counter to growing progress in the state, Mr. Rogers said.
Mr. Fields' name is shared by the man convicted of driving his car through a crowd of counterprotestors in Charlottesville in 2017 and killing 32-year-old paralegal Heather Heyer during a rally by white supremacists and neo-Confederates protesting the Charlottesville City Council's vote to remove statues of Con- federates Robert E. Lee and Stonewall Jackson from city property.
Despite the tragedy of that day, Mr. Rogers reminded the crowd of the resistance they and others have long brought against Confederate memorials and their defenders. He pointed to Richmond City Council's approval of a resolution requesting local control of Confederate monuments as a choice "to stand up and reflect the same kind of bravery that was happening in Charlottesville, that's been happening in Tidewater, that's been happening across the Commonwealth."
The crowd's enthusiam was reflected in the signs and posters they waved, which decried the "Monumental Lies" the monuments represent. Chants of "Monumental Justice!" and "Local Control Now!" were a constant refrain during the rally.
In late October, Virginia Attorney General Mark R. Herring gave his approval to the City of Norfolk to move a Confederate monument to "Johnny Reb" into a city-owned graveyard. A federal lawsuit is pending.
Dr. Bellamy told the crowd that he and another former Charlottesville City Council member and their families were harassed following their efforts to remove the "symbols of dominace" honoring slavery from public spaces. But he said they and other advocates remain positive that their work — and that of others — will ensure that the General Assembly will "get us over the finish line."
"When this bill is then subsequently passed, you go back to your locality and tell your local officials to have the courage to stand up for what is right." Dr. Bellamy said. "Let's get to work."