Confederate statues go black in Charlottesville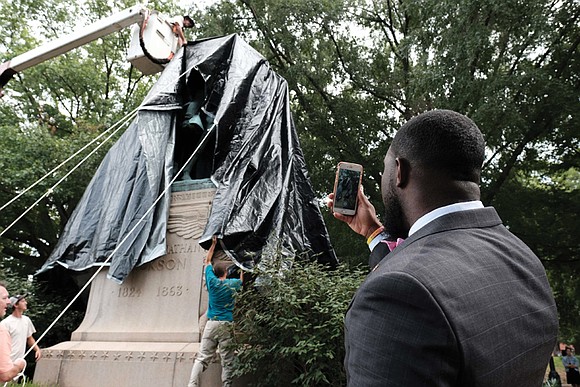 Workers in Charlottesville draped giant black tarps over two statues of Confederate generals on Wednesday to symbolize the city's mourning for Heather Heyer, the 32-year-old paralegal who was killed while protesting a white nationalist rally.
The work began around 1 p.m. in Emancipation Park, where a towering monument of Robert E. Lee on horseback stands. Workers gathered around the monument with a large black covering. Some stood in cherry-pickers and others used ropes and poles to cover the statue as onlookers took photos and video.
Some of the crowd cheered as the cover was put in place.
The statue of Confederate Stonewall Jackson also was covered in Justice Park.
The Charlottesville City Council voted to shroud the statues early Tuesday, at the end of a hours-long meeting packed with irate residents who screamed and cursed at council members over the city's response to the Aug. 12 rally. The event, dubbed "Unite the Right," is believed to be the largest gathering of white nationalists in a decade.
Neo-Nazis, Ku Klux Klan members, skinheads and members of various white nationalist factions clashed violently with counterprotesters in the street adjacent to Emancipation Park. The fighting went on largely uninterrupted by authorities until the event was declared an unlawful assembly and the crowd was forced to disperse.
Later, a car rammed into a crowd of demonstrators who were marching through downtown, killing Ms. Heyer and injuring more than two dozen others. The man who police say was driving, James Alex Fields Jr., 20, of Maumee, Ohio, has been charged with second degree murder in her death.
Gov. Terry McAuliffe said last week that the Confederate statues have become "flashpoints for hatred, division and violence," and he called on localities and the General Assembly to relocate Confederate monuments to museums and other appropriate places.
The governor also issued an executive order on Aug. 18 halting any permits for demonstrations at the Lee statue on Richmond's Monument Avenue until the state Department of General Services can put in place new emergency regulations.
He said several groups had requested permits for rallies at the Lee statue in the aftermath of the Charlottesville tragedy, but "state and local officials need to get ahead of this problem so that we have the proper legal protections in place to allow for peaceful demonstrations."
In Norfolk, Mayor Kenny Alexander supports moving Norfolk's Confederate monument out of downtown, possibly to city-owned Elmwood Cemetery. His comments on Aug. 16 came just hours before a protest where hundreds of people called for the monument to be removed.
Mayor Alexander, who is Norfolk's first African-American mayor, noted that Norfolk natives fought to preserve the Union during the Civil War, including Sgt. William Carney of the 54th Massachusetts Colored Infantry, who was the first African-American recipient of the Congressional Medal of Honor for heroism in the Battle of Fort Wagner in South Carolina.
In Portsmouth, Mayor John Rowe called for the city to move its Confederate monument from Olde Towne to Cedar Grove Cemetery, which has a large section of graves belonging to rebel leaders and soldiers.