Charlottesville votes to remove Lee statue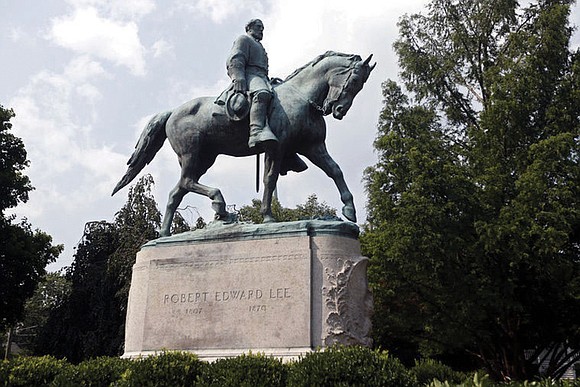 Free Press staff, wire reports
CHARLOTTESVILLE
A divided Charlottesville City Council voted this week to move a statue of Confederate Gen. Robert E. Lee from the city's Downtown and to rename Lee Square where it stands.
The 3-2 vote Monday to move the statue from its central place to McIntire Park capped a nearly yearlong debate over the propriety of keeping a symbol of slavery and rebellion in the heart of the city.

Councilman Bob Fenwick, who cast the deciding third vote, said that it was time to relocate the statue of a general who led "an armed force to preserve the economic lifeblood of the Confederacy, and that was the enslavement of human beings."
While calls for removing or dismantling such statues have been heard in Virginia communities from Norfolk to Richmond, Charlottesville is one of the few places in the state to actually approve the idea.
One reason is a state law that appears to ban localities form removing or destroying such war memorials.
Last September, Alexandria's City Council took the lead in voting to seek permission of the General Assembly to move a statue of a Confederate soldier from its historic Old Town, though it is not clear legislation on that subject was introduced or advanced.
Alexandria's council also voted to seek to rename Jefferson Davis Highway within city limits and to work with neighboring Arlington County on finding a new name for the highway.
Earlier, Danville stoked controversy by removing a Confederate flag from a prominent city building.
In Charlottesville, the council decision was not a complete defeat for Confederate sympathizers.
The council took no action on moving a separate statue of Confederate Gen. Thomas "Stonewall" Jackson, also in Downtown.
A study committee last year projected that moving the Lee statue would cost between $300,000 and $400,000.
The city's mayor, Mike Signer, and Councilwoman Kathy Galvin opposed the move.
Like the councilwoman, Mayor Signer said his vote did not show support for the statue, but rather a preference for doing more to put the statue in context at its current site.

He also pointed to the uncertainty surrounding the costs, logistics and legality of moving the statue.
Following the votes, the council asked the city administration to provide information on those issues and to provide options for new names for the square in the coming months.