VUU takes its game on the road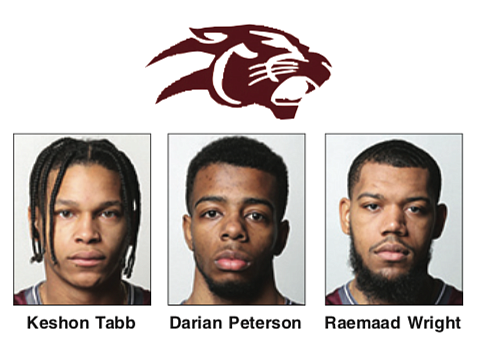 Keshon Tabb, a law-abiding citizen by nature, transforms into a pickpocket once he laces up his basketball sneakers.
The Virginia Union University sophomore guard from Hen- rico County's Hermitage High School is tied for the CIAA lead in steals despite playing less than a half — 19 minutes — per game.
Tabb had a whopping 10 steals in the Panthers' 99-97 win last Saturday over visiting Shaw University. That's one steal less than the VUU school record of 11 set by Luqman Jaaber in 2004 against St. Paul's College.
"We like to think we have a good defensive team and Keshon is a big part of it," said Coach Jay Butler. "He puts a lot of pressure on the ball. He's all over the court."
The Panthers are holding opponents to 40.5 percent shooting from floor. VUU has 125 steals compared to 95 by its opponents.
There have been heroes aplenty as VUU has won seven straight games and nine of 10 following a rocky start.
Senior guard Terrell Leach leads the CIAA in scoring (21.3 points) and now has scored 1,278 career points in two seasons at Winston-Salem State University and two seasons with VUU.
Leach hit a 3-point shot from half court to end the first half of the game against Shaw University. Later, he nailed the deciding 3-pointer at the end of regulation.
Leach's supporting cast includes 6-foot-3 Darian Peterson, who had 13 points against Shaw.
Coach Butler prefers athletes from winning backgrounds and Peterson qualifies. He earned All-State honors in help- ing Chesterfield's Monacan High School to the 2016 State 4A championship.
"Darian's a big-time talent," Coach Butler said. "He can score from anywhere and he's also a solid rebounder. We're playing him some at the four (strong forward)."
A season-long standout has been 6-foot-6 junior Jordan Peebles. He is second to Leach in scoring, while ranking second in the CIAA in field goal percentage (60.4 percent) and fifth in rebounding (8.4).
Another player similar to Peebles is 6-foot-7 Raemaad Wright from King Fork High School in Suffolk. Wright averages six points and seven rebounds and leads the Panthers with 23 blocks.
More inside help has arrived in 6-foot-8 freshman Micah Campbell from Waldorf, Md. Campbell had eight points, five rebounds and three blocked shots in his first outing against Claflin University.
"We planned to red-shirt Micah," Coach Butler said. "But as the season went on, we felt we needed more help and activated him."
VUU's success now will be tested on the road.
The Panthers began a nine-game road trip Monday at St. Augustine's University and won't return to Barco-Stevens Hall on the VUU campus until Feb. 3.