Full-court press
Navy Hill District Corp. is pulling out all stops as Feb. 24 vote by City Council on $1.5B Coliseum replacement and Downtown development nears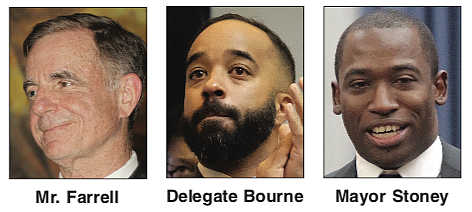 From robocalls to press conferences, the Navy Hill District Corp. that Dominion Energy top executive Thomas F. Farrell II heads is pulling out all the stops to generate public support for the $1.5 billion Richmond Coliseum replacement plan ahead of the scheduled vote by City Council in late February.
However, there is little sign that the campaign has created a groundswell of community backing or swayed any of the three to five City Council members who have signaled they are likely to vote "no" on the massive project.
The project needs the approval of at least seven of the nine City Council members.
Just as importantly, a last-ditch effort by Mr. Farrell and his team to adjust the project's financing through state legislation to steer more state sales tax dollars to the project is seen as facing tough sledding in the General Assembly.
The bill was introduced by Richmond Delegate Jeff M. Bourne at the request of Navy Hill District Corp. and Mayor Levar M. Stoney.
The massive Navy Hill plan calls for replacing the closed Richmond Coliseum with a new, larger arena. The project also includes private development of about 2,000 new apartments, at least two office buildings, multiple retail stores and restaurants, a convention hotel, a food market and an entertainment center on about eight blocks north of Marshall Street near City Hall and two blocks south of Broad Street.
Despite the challenges, Navy Hill is continuing its robust lobbying campaign with only a month and one private consultant's report left to go until the long-awaited City Council vote, now set for Monday, Feb. 24.
Ignoring a previously filed complaint that the Farrell-led nonprofit's effort to sway public opinion and influence City Council violates federal regulations governing tax-exempt groups, the company has sought take its case to the community, according to reports the Free Press has received.
Residents, mainly in the African-American community, tell of receiving repeated telephone calls touting the benefits of the project and its potential for creating thousands of jobs, as well as big payouts for black-owned construction companies.
Some people are concerned about what they perceive as divisive messages that portray the issue of Navy Hill in terms of opponents seeking to deny a project that would benefit African-Americans.
"This has become increasingly racialized," said one concerned individual, who asked for anonymity. "I don't think that is good for our city."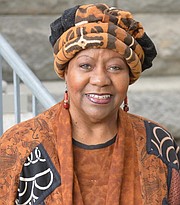 Meanwhile, a group of 20 area African-American ministers held a news conference Tuesday at Third Street Bethel A.M.E. Church in Jackson Ward with Mayor Stoney to endorse the project as a positive for the city and for the African-American community.
One of the leaders, Dr. Patricia Gould-Champ of Faith Community Baptist Church, said the group has had its questions answered and now believes it is time "to put trust and faith" that the city's leaders and Navy Hill District Corp. know what they are doing.
She said the ministers believe that this would not just benefit the city but also benefit people through the jobs it would create for those who are struggling and have been left out of the city's booming economy.