Jackson Ward resident starting Wall of Love to help those in need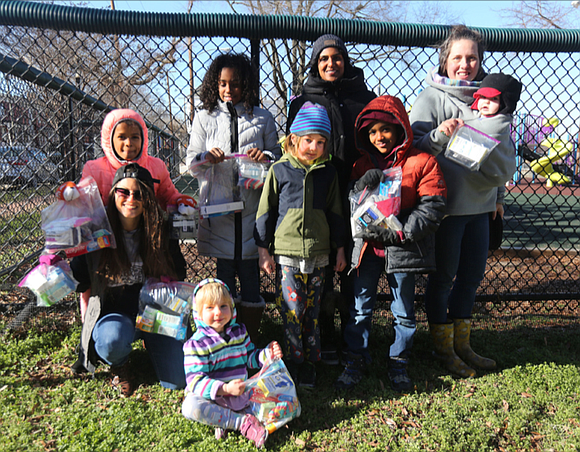 Richmond is about to join the Walls of Love movement that seeks to provide basic necessities to the homeless and needy without any questions or judgments.
Jackson Ward resident Ashley Smith-O'Meara and a crew of friends are creating the city's first Wall of Love at Abner Clay Park on the fence along the Clay Street side of the Jackson Ward park that currently is closed for renovation.
Following the template of other cities, a volunteer team will place plastic zip-top bags containing personal items such as shampoo, feminine pads, toothbrushes and toothpaste, soap, caps, socks, gloves and baby wipes on the fence.
The items will be accompanied by a message: "Please take what you need. Leave the rest for others. Pay it forward when you can."
Ms. Smith-O'Meara said donations are being accepted in advance of the launch at 10 a.m. Friday, Feb. 7, when the creator of the concept, Holly Jackson of Cleveland, will inaugurate the first Wall of Love in Virginia.
Once homeless herself, Ms. Jackson came up with the idea in 2018 when she saw a homeless family on a cold night navigating the streets without any hats, coats, socks or gloves and only flip-flops on the children's feet.
"I said to myself, 'I wish there was a magic wall where people could come to get what they wanted,' and the light bulb went off," Ms. Jackson told the Free Press in a telephone interview. "I realized I could do that."
With support from the local government, she put up the first "wall" on a bush outside the police station in Lorain, Ohio, a suburb of Cleveland.
Ms. Jackson said she planned to do it only one time, but she said the response was so overwhelming that she had to continue. She said she found herself turning her idea into a nonprofit that began developing walls in other places around Cleveland.
Since that start in November 2018, more than 200 Walls of Love have been developed in the Cleveland area and in cities including Denver; Fort Worth, Texas; and Lansing, Mich., said Ms. Jackson, who volunteers her time. She said an estimated 20,000 people have been helped through the efforts.
She said six are permanent walls, but most are one-time affairs where the volunteers do not replenish the items. But that's OK; "If just one person is helped, that is beneficial," she said.
The purpose of the wall, Ms. Jackson said, is to make it simple for people to give and receive anonymously.
She learned of the stigma that people needing help face when she was pregnant and said she had to flee her home to escape an abusive situation. Previously independent, she said she found it humiliating to ask for help and infuriating that she did not qualify for government aid because she earned too much.
Ms. Jackson said that planting items on a fence shows that people "care about you. Even better, there are no lines to stand in, no forms to fill out, no numbers to be assigned."
For Ms. Smith-O'Meara, creating a Wall of Love in Richmond is an opportunity to do something positive in response to the construction fencing that currently cuts off access to the popular park.
While plans for the park's renovation had been in the works for years, "it was emotionally challenging to see the chain-link fence," she said, noting the park had become a place for people to come to get a meal or just meet.
"Instead of getting angry, I want to create something positive," Ms. Smith-O'Meara said.
Want to help?
Donations of all types of personal items are being accepted for the Richmond Wall of Love.
Among them:Toothpaste, toothbrushes, combs, brushes, deodorant, feminine pads, toilet paper, shampoo, conditioner, hand and body soap, hand warmers, lotion, lip balm, baby wipes, diapers, BAND-AIDs, socks, gloves, scarves and dish towels.
Donations can be dropped off at Saadia's Juicebox and Yoga Bar, 4021⁄2 N. 2nd St. in Jackson Ward, according to Ashley Smith-O'Meara, who is starting the Richmond effort.
Information: Holly Jackson, (216) 882- 9395 or WallsofLove216@gm....