VCU's Nah'Shon Hyland: A freshman with impact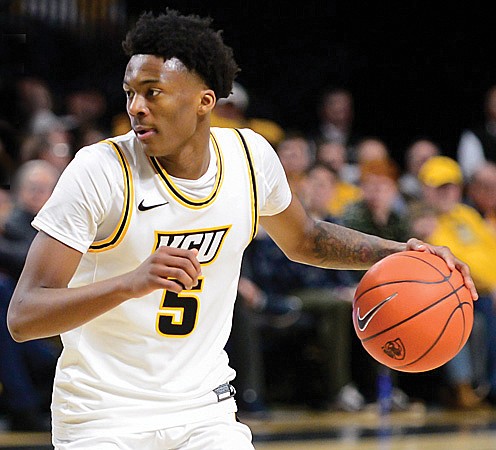 The Virginia Commonwealth University Rams opened this season with a vacancy for a shooter. Nah'Shon Hyland was quick to apply for and be awarded the position.
Answering to "Bones," the 6-foot-3, 165-pound freshman from Wilmington, Del., has become an added attraction the Rams needed on the perimeter.
After 20 games for the 15-5 Rams, Hyland is the team's fourth leading scorer (7.8 points average in just 19 minutes per outing). He does his best work beyond the arc, sinking 34-for-82 or 41 percent.
"Bones has great spirit," VCU Coach Mike Rhoades said. "He walks in the room and makes everyone feel like a million bucks."
Swishing five 3-pointers, Hyland had a career high 21 points against St. Bonaventure on Jan. 18. It was the most points by a true Rams freshman since 2014, when Terry Larrier scored 21 points against the University of Maryland-Eastern Shore.
Hyland tallied 17 points of his game-high 21 prior to halftime. The Rams won the game 91-63.
"I just went out and found my rhythm," Hyland said of his game performance.
Off the bench, he added 15 points (3-for-4 beyond the arc) in the Rams' 76-65 win Jan. 25 at LaSalle University in Philadelphia.
Twice, Hyland has been named Atlantic 10 Conference Freshman of the Week.
He also tied for leading scorer with 15 points against Loyola University of Maryland on Dec. 29 and 16 points in the game against the University of Dayton on Jan. 14.
Hyland ranks with the Rams' more celebrated recruits of recent vintage. He was twice All-State at St. Georges Technical High School in Middletown, Del., and was named Delaware State Player of the Year as a senior, averaging some 27 points per game.
Hyland is the latest in a decades-long line of freshmen with impact at VCU.
Undoubtedly the top freshman contributor during VCU's Division I era (since 1975) was Kendrick Warren, who averaged 16 points and nine rebounds in 1991.
Warren, who played under Coach Sonny Smith, was a McDonald's All-American out of Richmond's Thomas Jefferson High School.
Prior to VCU's rise to Division I status, Len Creech (George Wythe High School) averaged 24 points per game in 1966 when VCU was called Richmond Professional Institute.
In 1971, Greg McDougald (Bronx, N.Y.) averaged 17 points and 13 rebounds for Coach Chuck Noe.
A season later, Richard Jones (State AAA Player of the Year at Maggie L. Walker High School) averaged 14 points and 13 boards under Coach Noe.
Freshmen have always been eligible at VCU, which wasn't the case nationally. Freshmen were not eligible at Division I schools until 1972-73 season.
Meanwhile, rookie phenom Hyland adds plenty of black and gold sparkle to VCU's Siegel Center. And make no bones about it, he figures to keep ruffling the nets for seasons to come.