VCU looking to Nah'Shon 'Bones' Hyland in challenge for A-10 title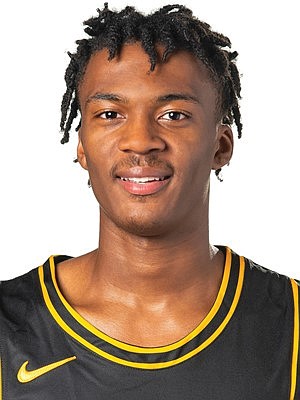 Just one player (Eric Maynor in 2009) in the last three-plus decades of Virginia Commonwealth University basketball has averaged at least 20 points per game.
Nah'Shon "Bones" Hyland shows signs of breaking the Rams' 20-something drought by raining 3-pointers.
The slender 6-foot-3 sophomore is on a jump-shooting roll as the Rams hope to challenge for the Atlantic 10 Conference title.
Hyland's 18.2 team-best scoring norm includes five games of 20-plus production, including the past two. The Wilmington, Del., native struck for 24 points in a loss to the University of Rhode Island on Jan. 9 and 23 points against George Mason University in a Jan. 6 victory.
Hyland's most dangerous from outside the arc, where he is 36 for 99 (36 percent) on 3-pointers. His smooth shooting stroke also has produced 86 percent accuracy (30-for-25) at the foul line.
Efficiency is a Hyland plus. He has done his damage in just 29.2 minutes per game as the Rams rely on a long, effective bench. Hyland ranks fifth in A-10 scoring but ranks 26th in minutes logged. He leads the A-10 in 3-pointers per game and is second in free-throw accuracy.
Growing up in Delaware, Hyland benefited with some early training from former Virginia Union University All-American A.J. English, also from Wilmington. English tutored Hyland in his youth program. As a VUU senior in 1990, English led NCAA Division II in scoring, was National Player of the Year and a second round draft choice of the NBA's Washington Bullets, now the Washington Wizards.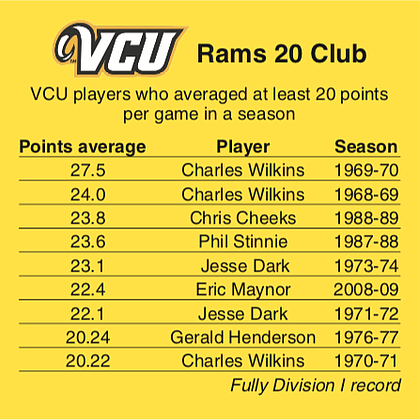 ---
The Rams were scheduled to play the University of Richmond Spiders this Saturday, but the game has been postponed due to a positive COVID-19 test in the Spiders' program. There is no makeup date at this time. VCU leads the UR series 54-31 that began in 1976. The schools split two games last year.
VCU's next scheduled game is Jan. 23 against the University of Dayton at the Siegel Center.
The Rams are 9-3 overall and 2-1 in the A-10. The Rams also had won seven straight games until last week's 83-68 loss to Rhode Island.
---

The Spiders rely heavily on senior point guard Jacob Gilyard, who averages 13 points while leading the team in assists and steals. The 5-foot-9 Kansas City, Mo., native logs 38 minutes per game and has the ball in his hands a vast percentage of the time.
The Spiders are 9-3 overall and 3-1 in the A-10. UR also is coming off a 77-57 road win on Jan. 9 at George Mason University.
---
VCU starts one freshman — 6-foot point guard Ace Baldwin — and brings in several more from the bench, most notably 6-foot-7 Jamir Watkins.
Baldwin, from Baltimore, averages six points and leads the team in steals and assists.
Watkins, from Trenton, N.J., chips in 7.3 points and three rebounds per game as part of Coach Mike Rhoades' "Bench Bunch."
---
UR's "missing person" is senior forward Nick Sherod, who is sitting out the season with a knee injury. The 6-foot-4 former St. Christopher's All- Stater had been a three-year regular with 1,192 career points.
Sherod will have another season of eligibility under the new pandemic guidelines should he decide to take it.