New Police Chief Gerald Smith greeted with eventful first day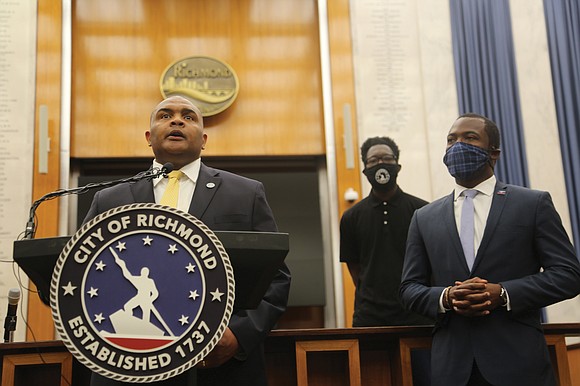 For Gerald M. Smith, the first day as Richmond's new police chief was anything but routine.
Along with the regular calls for service on Wednesday, Chief Smith, who was tapped for the job late last Friday, found the department caught up in a whirl of events typical of the upheaval that has gripped the city since late May following the police killing of George Floyd in Minneapolis.
In the late morning, 100 people marched to the John Marshall Courts Building to protest evictions of struggling families. The upshot: A window shattered, protesters pepper-sprayed, three arrests and the building roped off with police tape.
By mid-afternoon, crowds gathered to watch the historic removal of the statue of Confederate Gen. Thomas "Stonewall" Jackson at Monument Avenue and Arthur Ashe Boulevard following Mayor Levar M. Stoney's emergency order to take the oppressive symbols down.
As the sun set, another group prepared a sit-in at the Lee statue a few blocks east to protest the Richmond Police Department's use of tear gas, pepper spray and rubber bullets to disperse crowds protesting police violence and racial injustice.
Chief Smith, 51, is the city's 20th police chief and the fourth person to hold the top position during Mayor Stoney's first term. The chief's starting salary: $185,000 a year, the city reported. That's roughly $10,000 more than his predecessor.
To the mayor, the new chief's willingness to leave at a moment's notice the Charlotte-Mecklenburg Police Department in North Carolina where he has served for 29 years was a strong point in his favor, given that Mayor Stoney considered it a priority to fill the job.
Mayor Stoney has declared Chief Smith is "who Richmond needs right now — a reform-minded leader with deep experience in community police and de-escalation." However, Mayor Stoney could not point to any specifics in Chief Smith's record in North Carolina to indicate reform leadership.
The mayor said he consulted with two past Richmond police chiefs, Alfred Durham and Rodney Monroe, before making the selection. He said he has "full faith that this is the leader who not only can move the police department to the next level, but also bring our city together."
"Chief Smith is ready to lead this department in these challenging times and to work collaboratively," Mayor Stoney continued. "I knew we had the chief that Richmond needs when told that his number one priority is to listen to the community because this is their police department."
Still, even as Mayor Stoney and Chief Smith promise that community input will play a big role in the development of reforms, such as a civilian oversight board to handle complaints about officers, the chief's selection process did nothing to reassure activists.
Chief Smith's new job opportunity opened two weeks ago when Mayor Stoney asked for the resignation of former Chief Will Smith, who he chose to lead the department after Chief Durham resigned in late 2018.
However, the interim chief he chose, Maj. William V. "Jody" Blackwell, who was in the job only 11 days, was a lightning rod for criticism after it was publicly disclosed that he had fatally shot a man in the back 18 years ago.