Class of 2020 gets virtual graduation send-off from Virginia celebrities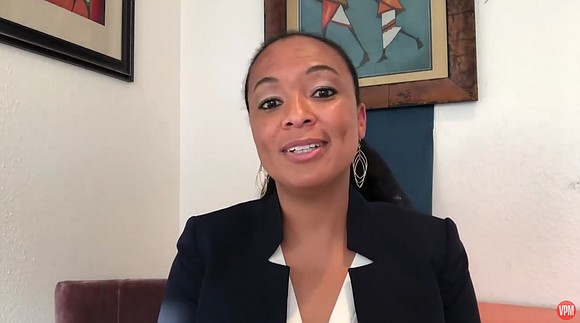 Olympic gold medalist Angela Hucles Mangano inspired the Class of 2020 with stories of overcoming challenges and having hope for the future last Friday during "Virginia Graduates Together," a virtual celebration hosted by Gov. Ralph S. Northam and First Lady Pamela Northam.
The 30-minute celebration, held in the absence of in-person ceremonies because of the coronavirus, featured a number of noted Virginians who have excelled in sports, music, entertainment and politics who offered messages of prosperity, good health and safety to graduates as they pursue their hopes and dreams during this extraordinary time.
Ms. Mango, a Norfolk native and 2000 graduate of the University of Virginia, is a two-time Olympic gold medalist — in 2004 and 2008 — and a two-time World Cup bronze medalist for the U.S. Women's National Soccer Team.
She previously served as president of the Women's Sports Foundation and was a regional director of Up2Us Sports.
"The act of donning a cap and gown, while receiving their diplomas, is truly momentous. This is not just a milestone of crossing a stage. It's the journey getting there."
To bring her point to life, Ms. Mangano recounted the U.S. wom- en's team and the personal and professional challenges they faced and overcame as they entered the Olympics with two of their key players — the captain and the team's highest scorer — injured and out of the game.
As the team adjusted, she moved from a bench player to a starter in a new position.
She said of herself and teammates, "We let doubt and fear fester in our minds and infiltrate our locker room.
"However, as we remembered who we were, individually and collectively, we chose another path, a path that ultimately led us to the gold medal in Beijing, China," she said.
Ms. Mangano encouraged Virginia's graduates to meet future challenges because they can lead to great opportunities and growth.
"We can pursue our passions and goals. We can make future break-throughs," she said encouragingly. "We can serve the greater good. We can do whatever seems to be unimaginable."
Among the Virginia celebrities offering their well-wishes to the Class of 2020 were Seattle Seahawk Quarterback Russell Wilson; Megan Walker, WNBA player with the New York Liberty; HoustonAstro's pitcher Justin Verlander; Dave Matthews, leader of the Dave Matthews Band; former Virginia Tech football Coach Frank Beamer; actor and comedian Jay Pharoah; U.S. Sens. Mark R. Warner and Tim Kaine and 7th District Congresswoman Abigail Spanberger.
Collectively, they exalted the 2020 Class and urged them to celebrate themselves and their peers in today's strange and unique climate.
Gov. and Mrs. Northam thanked graduates across the state for personal videos and photos making the virtual celebration exciting, while showing the talent and diversity of the Commonwealth's students.