Shorter services, less singing and no dinners for churches during pandemic reopening
Reginald Stuart | 6/4/2020, 6 p.m.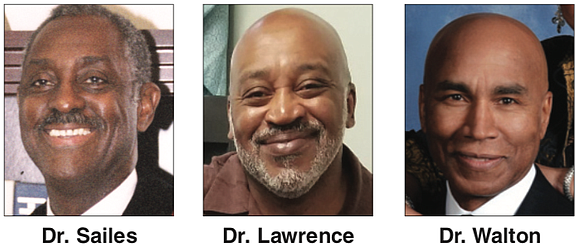 For more than a quarter century, Dr. James L. Sailes knew that every Sunday morning around 10:30, he would be proudly walking the aisles of Antioch Baptist Church in Varina, greeting scores of his 500 or so members with handshakes and hugs.
Until mid-March, that one-to-one, face-to-face rapport was a familiar sight for many Richmond area congregations for decades. The reality of the deadly COVID-19 pandemic ground this centuries-old tradition to an abrupt halt.
Today, the pastor said one can count on Antioch Baptist being almost an empty shell for a while until the airborne virus — passed person-to-person by unknowingly breathing the disease — subsides and stops infecting people and taking lives.
Antioch is among hundreds of Richmond area congregations that have collectively responded to public officials' calls to help mitigate the spread of the coronavirus by not gathering in crowds.
Although Gov. Ralph S. Northam's latest executive orders allow churches statewide to reopen at 50 percent capacity, many people continue to stay home. Some churches, cognizant of the age and health conditions of their congregants, remain closed while livestreaming Sunday service via the internet.
"I'm not sure we have any Saint Paul's, Luke's, James or Saint Peter's walking the Earth today," said Dr. Sailes, referring to the icons of biblical history who may have challenged the strength of COVID-19. "To cast caution to the wind would be testing God," he said, noting recent media reports of crowds rushing to beaches, waterfront cafes and sidewalk eateries across the country, ignoring health warnings that the return to "normal" may be moving too fast for the disease to subside.
"That may be stretching it," he said, echoing others citing scientific evidence that COVID-19 strikes at will with little notice.
Dr. Sailes, a Chattanooga, Tenn., native who has led the Henrico County church for 39 years, said Antioch quickly shut down its building when the governor and state health officials in March appealed for help in curbing the virus' spread. Sunday worship shifted to virtual programs on social media.
Since the state's limited reopening allowance on May 15, attendance at Sunday services has not exceeded 15 people, he said. The congregation is honoring health guidance also by making sure people are spaced apart.
In the process, Dr. Sailes also has made some adjustments, including cutting the Sunday service to about 45 minutes from the usual hour and a half, and singing fewer verses of songs.
"I sing too many songs," he said with a chuckle.
One sign congregants are taking virus mitigation seriously is no reported deaths among the church's members, although the relative of one has died of COVID-19, he said.
Dr. Sailes said he doesn't expect attendance to bounce back for a while, even if health officials continue to roll back the public health alerts and appeals.
"We'll stretch as long as we need to," Dr. Sailes said. "The goal is to sustain this church in the midst of the virus."
Moore Street Missionary Baptist Church has recorded the deaths of six members who had COVID-19, said Dr. Alonza L. Lawrence, the church's pastor.