Starting as a pastor in the midst of a pandemic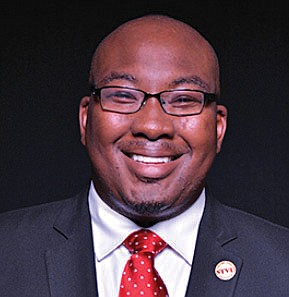 "I never imagined I would start my ministry in the midst of a pandemic," Dr. Joshua L. Mitchell said.
But that's the case for the 33-year-old Baltimore native and graduate of Virginia Union University's seminary who has just been tapped to be the seventh pastor of Thirty-first Street Baptist Church in Church Hill.
Mostly recently the minister to youth and college students at a mega-church in Houston, Dr. Mitchell is scheduled to formally take the pulpit on Easter Sunday, April 12.
The church, located at 823 N. 31st St., was officially organized 105 years ago.
"Increasingly, it looks like my first Sunday preaching will be in an empty sanctuary," Dr. Mitchell told the Free Press, based on what he heard during a conference call Monday between Gov. Ralph S. Northam and faith leaders.
Dr. Mitchell is a prime example of how ministers and their congregations are seeking to adjust to the emergency conditions caused by the COVID-19 pandemic.
Undaunted and showing the energy, initiative and caring that made him the top choice of the search committee and the congregation, Dr. Mitchell said despite being more than 1,000 miles away, he has begun working with the church's lay leaders and congregants on keeping the church's 450 members together.
"Every crisis calls forth our creativity," said Dr. Mitchell, who is the son of the Rev. Marlow L. Mitchell, pastor of Rising Sun Baptist Church in Washington.
The closure of church buildings to help stop the spread of coronavirus "is accelerating restructuring in some of the ways we connect that are important to 21st century ministry," he said.
The graduate of Howard University who earned both his master's and doctoral degrees in ministry at VUU, said that in the past week, he has helped the church link with Facebook and its live video streaming that allows for interaction with people with computers and smart phones.
He said the church's Facebook page has been dormant since 2017, but the new capability means "we can do fresh things."
He said he worked with Carolyn Brown, chair of the Trustee Board, to set up the new Facebook.com/31sbc to link congregants to remote worship.
The church also has set up a connection through FreeConferenceCall.com to enable those without such equipment to call in to listen to services.
Dr. Mitchell provided the first test in leading two services last Sunday in which he urged his listeners not to miss what God is offering as a result of the crisis and to stay calm, connected and committed.
On Tuesday night, he led a Bible study via Facebook and conference call.
He also has worked with church officials, such as the Finance Committee chairperson, Alesia Gibbs, and the current and past chairs of the diaconates, Lorraine Claiborne and Beverly Wynn, to enable the congregation to continue their support through online donations.
"We are moving," he said, noting that one congregant already is ensuring the Facebook page is updated. He said the next step would
involve creating small teams to sup- port the online operations while "I focus on creating content."