Dr. Levy M. Armwood Jr., retired pastor, music teacher, dies at 79
2/28/2020, 6 a.m.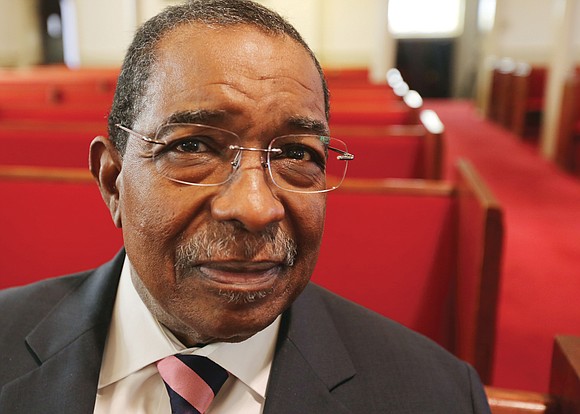 Dr. Levy Mack Armwood Jr., retired pastor of historic Ebenezer Baptist Church in Jackson Ward and a 32-year music teacher for Richmond Public Schools, has died.
Well known for his love of education and music and for his devotion to Ebenezer, Dr. Armwood succumbed to illness on Tuesday, Feb. 18, 2020. He was 79.
Family and friends celebrated his life Saturday, Feb. 22, at Ebenezer, a church where he had served as a minister of music and pastor for 40 years.
The grandson of sharecroppers, Dr. Armwood was born and grew up in Washington, D.C., where he earned his undergraduate degree in music in 1967 and his master's in music education in 1973 from Howard University and also sang in the school's choirs.
Dr. Armwood came to Richmond in 1968 to join the Richmond Public Schools faculty as a music teacher.
Over the course of three decades, he taught at eight schools, most notably Thomas Jefferson High School and the Maggie L. Walker Governor's School. Along with teaching music, he was involved in directing students in musical productions and in choirs, often taking students to competitions.
After earning his master's, he also served for seven years as an adjunct professor at Virginia Union University, where, among other things, he taught classes in voice and in music methods for elementary schoolteachers.
Dr. Armwood responded to the call to be a minister when was 42. He was licensed in 1982 at Ebenezer Baptist Church. He then earned a master's in divinity at VUU's Samuel DeWitt Proctor School of Theology in 1988 and was ordained that same year.
In 1992 at age 52, he accepted the call to lead his first church, Providence Baptist Church in Ashland. During his tenure there, he earned his doctorate from VUU's School of Theology in 1996.
Ten years later after taking the pulpit in Ashland, he became Ebenezer's ninth pastor. He had established a deep connection with the church and the congregation as its minister of music for two decades, a post he held until he became pastor of Providence Baptist.
Soon after moving to Richmond in the late 1960s, Dr. Armwood became director of Ebenezer's Sanctuary Choir. Under his direction, the choir recorded its first album of anthems, spirituals and gospel songs during the 1980s. He also joined with the Richmond Symphony Orchestra in three performances of Handel's "Messiah."
Dr. Armwood was formally installed as Ebenezer's pastor in 2003 and served until 2017. He stepped down as the church marked its 160th year. The church has operated since then with an interim pastor.
His family said that while ministry was his calling, his real passion was for music.
He took piano lessons as a child, and he found his voice in sum- mer visits with his grandparents in South Carolina. He enjoyed the preaching and singing at their church and would return home to the nation's capital to preach and sing to his dog, his family said.
He also became active in Israel Baptist Church in Washington, where he sang in the choir and ushered. He gained exposure to other communities in taking trips to conferences for ushers.
Dr. Armwood also joined friends in creating the Royal Echoes gospel group that sang in churches across Washington, his family said. As a minister, he served on the regional board of the American Baptist Churches of the South and was a past president of the ABCOT Ministers Council. He also was a member of the Baptist Ministers' Conference of Richmond and Vicinity.
Dr. Armwood was a member of the National Association of Negro Musicians, the Music Education Conference of America, the NAACP and Alpha Phi Omega Fraternity.
He also served on the board of the Virginia Museum of Fine Arts' Friends of African and African-American Art. Survivors include his wife of 34 years, Cookie A. Armwood.