Dr. Adam L. Bond, Ebenezer Baptist Church's new pastor, eases into transition during pandemic
10/1/2020, 6 p.m.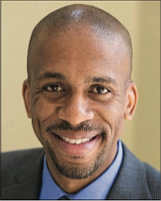 Dr. Adam L. Bond is blending the old with the new at historic Ebenezer Baptist Church, despite the disruption from the pandemic.
"Part of my call is to begin to re-imagine and re-invent church in terms of practices to create space that will be welcoming to new generations," said the 44-year-old Dr. Bond, who is the new pastor of the Jackson Ward church that was founded in 1858, three years before the start of the Civil War.
A former professor at Virginia Union University's graduate seminary, Dr. Bond took over on a probationary status on March 1, succeeding the late Dr. Levy M. Armwood Jr. and the Rev. James E. Leary, who had served as interim pastor since 2017. The congregation voted to lift the probation and affirm his leadership on Sept. 19.
A native of Milwaukee, Dr. Bond arrived at Ebenezer just in time to face the challenge of COVID-19, which has been the major issue of the moment for every church leader.
Virtually everything else was put on hold while Dr. Bond worked with the church's leadership to quickly get technology in place to transition the church's worship services and educational programs to virtual platforms.
He said the church had plans to upgrade its technology, but the spread of the virus in Richmond and across the state required moves to be made just two weeks after he arrived.
"The church adjusted very quickly," Dr. Bond said. "Even though there was a steep learning curve, I believe we have done a good job in providing a quality opportunity for worship" and to maintain connections.
While services and most of the programming remain online for now, Dr. Bond noted that the church's leadership is aware that it also must do more to attract younger people to ensure Ebenezer's long-term survival, a challenge for many mainline congregations in Richmond where dwindling numbers are a fact of life.
Ebenezer currently lists 411 members on its rolls, although Dr. Bond said about 300 sign in for services.
He also sees a need to serve a more diverse population, given the diversity of the church's surrounding community.
Ebenezer needs to celebrate its history and traditions, but seek to be open to "serving and partnering with humanity across the board," he said, with an approach "that aligns with the real essence of the gospel, and that is love."
Dr. Bond believes Ebenezer can play a role in boosting education as it long has. Ten years after it was founded, the church's basement became the site after the Civil War of one of the first schools for newly freed slaves, a school that would later become part of VUU.
He said he is seeking to make connections with organizations like the regional MathScience Innovation Center to bring summer programs to the church and to consider ways to ensure that the college scholarship programs provide "real support."
The new pastor brings both pulpit and academic experience to the position. Like Dr. Armwood, Dr. Bond previously served as pastor of Providence Baptist Church of Ashland. He led that church for three years before resigning a year ago.
He began his connection with Richmond about 21 years ago when he enrolled in VUU's Samuel DeWitt Proctor School of Theology to earn a master's in divinity following his graduation from the University of Memphis.
He went on to earn a master's and a doctorate in theology and religious studies from Marquette University in his hometown, then returned to Richmond to teach at the seminary. He spent 12 years there and was teaching at the Virginia Theological Seminary in Alexandria when he got the call to pastor Ebenezer.
Dr. Bond is the author of a primer for new pastors, "I've Been Called: Now What?" and a biography of Dr. Proctor, "The Imposing Preacher: Samuel DeWitt Proctor and Black Public Faith." He also co-edited "Church on Purpose: Reinventing Discipleship, Community and Justice."
He and his wife, Dr. Ronda M. Bond, live in Henrico County with their two children.