Company uses flowers to send message during local protests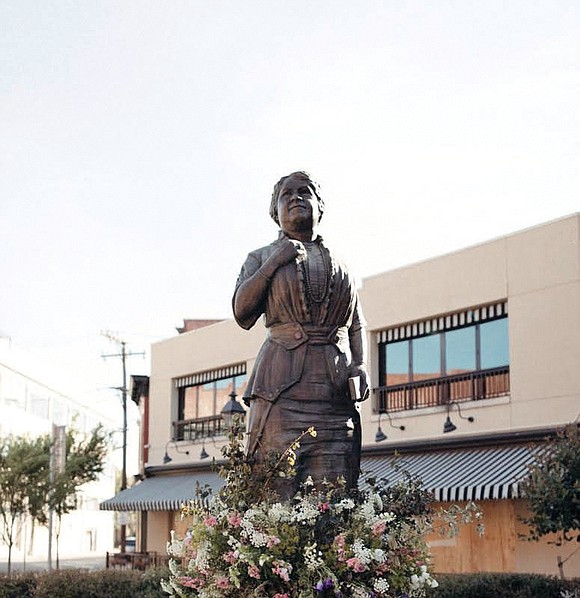 A local floral design company adorned the monuments of Maggie L. Walker and Arthur Ashe Jr. in a show of solidarity with local Black Lives Matter protesters and to make a positive statement about two highly regarded hometown heroes and trailblazers.
Hillary Carr, 29, owner of Vessel + Stem, and Maya Shaw, 27, the company's floral designer, were moved when monuments honoring Mrs. Walker, an iconic businesswoman and civil rights advocate, and Mr. Ashe, a tennis legend and humanitarian, were left unscathed after demonstrators vandalized stores and properties along Broad Street and in Jackson Ward and marred Confederate statues with graffiti on Monument Avenue in recent days.
In response, they wanted to do something visually special and meaningful to bring joy to the city, honor to Mrs. Walker and Mr. Ashe and salute the Black Lives Matter movement.
Ms. Carr, who is Caucasian, said the idea of placing flowers at the two monuments came from Ms. Shaw, who is African-American.
The statues — Mrs. Walker's at Broad and Adams streets in Downtown, and Mr. Ashe's on Monument Avenue, were along the demonstration routes.
"I wanted a way for my company to help more in the black community," said Ms. Carr, who plans to donate from her floral sales to various organizations supporting Richmond's African-American community.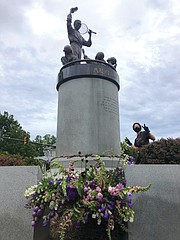 With the help of staff and flower donations from Fourteen Acres Flower Farm, Ms. Carr and Ms. Shaw placed flowers around the two monuments on the last weekend in May.
Mrs. Walker's descendants were heartened.
"That was a beautiful thing as we experience the protests going on in Richmond and the rest of the country," said Liza Mickens, 22, the greatgreat-granddaughter of Mrs. Walker.
She learned about it when she received a tag on social media by Ms. Shaw, a longtime friend, who had posted a photo of the statue that was ringed with flowers.
"That gesture not only embraced Maggie Walker, who believed the future is in the hands of the youths, it embraces and champions black voices, which is what the monument is all about," Ms. Mickens said.
"It's great that we are using all of our talents to champion the cause," she continued. "The protests and conversations are a continuation of the historic fight for empowerment, equality and equity for all Americans. But it is my generation's responsibility to leave the world in a better place than when we came into it."
Ms. Carr has a similar view of history and current events.
"It is sad that police are targeting African-Americans and that economic and educational discrimination is still ingrained in American society, especially after the protests in the 1960s and early '90s."
She continued, "All lives don't matter until black lives matter."