Front-runners line up for NBA Rookie of the Year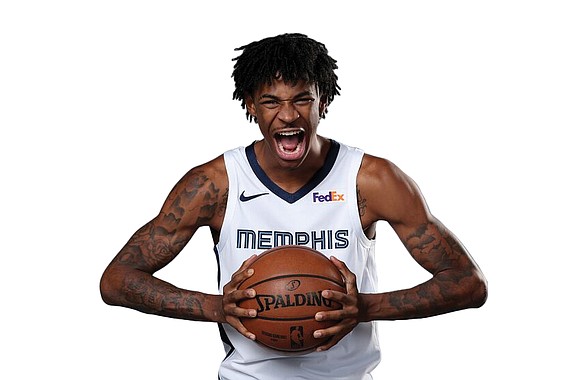 An athlete need not come from a college powerhouse to create a big splash in the NBA.
Ja Morant is a case in point. The alumnus of Murray State University in Kentucky has hit the NBA like someone doing a cannonball from the high dive.
The Memphis Grizzlies' dynamic point guard, even with an absence of name recognition, is a leading candidate — perhaps the leading candidate — for NBA Rookie of the Year.
Morant's prime competition for the honor is the New Orleans Pelicans' Zion Williamson, from Duke University, the crème de la crème of college hoops.
The explosive Williamson was the overall first selection in the 2019 NBA draft, followed by Morant at No. 2.
When NBA play resumes, Morant and Williamson could be going one on one for top rookie laurels.
Here's a statistical comparison:
Morant: In 55 games, he has averaged 18 points, four rebounds and seven assists, while hitting 37 percent from beyond the arc.
With Morant as their engine, the Grizzlies have improved from 33-49 in 2019 to 32-33 this season before play was suspended in March.
Williamson: Playing just 19 games due to injuries, he averaged 24 points, seven rebounds and two assists.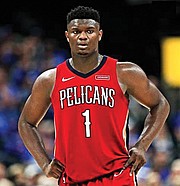 The Pelicans are 28-36 thus far for the season compared to 33-49 a year ago.
Duke University is the biggest of the big time in college hoopdom. Its program has featured 51 first round NBA draft choices, including four overall No. 1 picks — Art Heyman, in 1963, Elton Brand in 1992 and Kyrie Irving in 2011 prior to Williamson.
By contrast, Murray State's only other first round selection (14th overall) was Cameron Payne in 2015.
Murray State, located in Murray, Ky., just west of Nashville, is a member of the Ohio Valley Conference. Its nickname is the Racers.
Temetrius Jamel "Ja" Morant hails from Dalzell, S.C., and pronounces his nickname "Jah." His father, Tee Morant, played basketball at Claflin University in South Carolina.
While Williamson was the nation's top prospect coming out of Spartanburg High School in South Carolina, Morant's talents at Crestwood High School fell well beneath the radar. The only power conference school offering Morant a scholarship was the University of South Carolina. Other offers came from Duquesne, University of Maryland-Eastern Shore, South Carolina State and Wofford College.
Morant played just two seasons at Murray State, averaging 13 points as a freshman and 25 points as a sophomore before entering the NBA draft.
Morant revs up the crowd at Memphis' FedExForum with his creative playmaking, spectacular leaping and an accurate yet unconventional jump shot.
The honor of NBA Rookie of the Year is voted on by U.S. and Canadian sportswriters and broadcasters and is based on regular-season play. It is presented at the end of the playoffs, along with other individual awards.
Last year's Rookie of the Year was Slovenian Luka Dončić with the Dallas Mavericks. Dončić did not play college basketball in America.
While Morant and Williamson appear at the head of the 2020 Class, here are others deserving consideration for the NBA Rookie of the Year.