RPS students, families celebrate at 'different' graduation ceremonies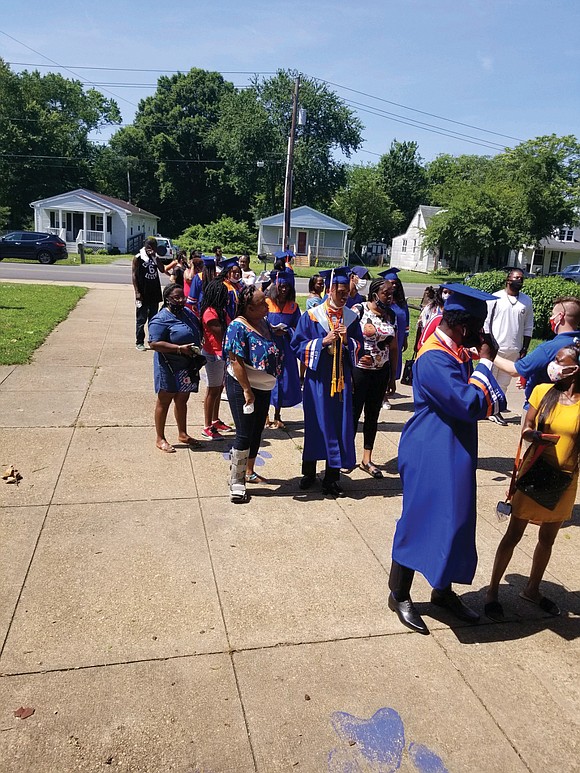 There was no glitz and glamour or boisterous cheering typical at graduations, but students in the Class of 2020 at two Richmond high schools had the adoration and cheers of family Tuesday when they accepted their diplomas during ceremonies that practiced social distancing.
In separate ceremonies at Armstrong and Richmond Community high schools, groups of six or seven seniors were ushered at 15-minute intervals to the back of the schools' auditoriums. At each school, they walked one by one to the stage, received their diploma and had their photo taken, while family was able to watch from the audience.
While staging for the commencement exercises at both schools was the same, each had a unique ceremony filled with enthusiasm.
At Armstrong High School in the East End, the atmosphere was festive outside the building on Cool Lane. A truck's huge speakers blasted R&B music from the parking lot, while a teacher with a bullhorn sitting in the open truck bed loudly congratulated each graduate and their family as they first lined up in front of the building.
Hallways leading to Armstrong's auditorium were lined with orange and blue balloons — the school's colors — and posters congratulating the Class of 2020.
Inside the mood-lit auditorium, the classic commencement song "Pomp and Circumstance" was playing softly in the background. Standing on the stage, in front of a banner bearing the orange and blue Armstrong Wildcat logo, was School Board Vice Chairwoman Cheryl Burke, a retired Chimborazo Elementary School principal, and Armstrong Principal Willie J. Bell Jr., who were ready to award 156 diplomas at the ceremony starting at 11 a.m.
Before each graduate walked down to the stage, his or her family was escorted to an area 6 feet from the stage, where they could view and capture the special moment on cell phone when their teenager completed a 12-year educational journey to begin the next phase toward the future.
The graduate and their family then were escorted out of the auditorium and through Armstrong's hallways, where a red carpet-style backdrop with the school's logo was available for more family photos before they left the building.
New graduate Jada Wiggins, 18, who plans to attend J. Sargeant Reynolds Community College in nursing, said she thought commencement was cool, but added, "I would have liked to do this at the Altria Theater with the entire class."
As Dalqan Washington's mother Margo Richardson watched him with admiration, the 18-year-old Armstrong graduate said he was not really happy with the abbreviated ceremony brought on by the pandemic.
He said he preferred a regular graduation, but his mother said she was glad Armstrong even had a ceremony.
At Richmond Community High School, graduates and their parents lined up in front of the school on Brookland Park Boulevard before the ceremony's start at 8 a.m.
Many families of the school's 46 graduates were holding balloons and signs. About six or seven students and their families were allowed to enter the auditorium one at a time, with the families seated in rows far apart as their students stood 6 feet apart in the back.
As their names were called, the graduates marched and ascended the stage where Principal Kenya Massenburg presented them their diplomas. After one group was finished and escorted out, another group entered.
Students' reactions to the ceremony varied.
Ayonden Coleman, 18, who will be attending Virginia Commonwealth University, said, "I have a lot of memories with my class, and it makes me sad because I can't enjoy this full moment with them. It is not the best, but I am accepting of it."
But Jakayla Collins, 18, who is headed to North Carolina Central University to study physics and engineering on a full scholarship, has another point of view.
"This was unexpected," she said. "It was very difficult to process at first. But we are still getting our diplomas. It's just different."