Under fire
Calls grow for Interim Chief Blackwell to resign after word of his fatal 2002 officer-involved shooting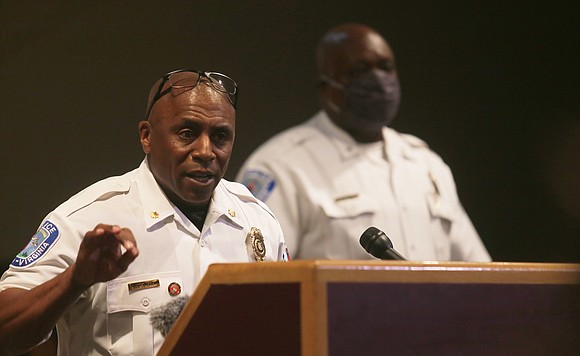 Interim Richmond Police Chief William V. "Jody" Blackwell is supposed to be the right person to focus on "necessary public safety reform, healing and trust building within the community."
That is what Mayor Levar M. Stoney said when he announced June 16 that he asked then-Chief Will Smith to resign and promoted his chief of staff, Maj. Blackwell, to be the city's top cop until a permanent replacement is selected.
After meeting with disgruntled police officers upset over Chief Smith's abrupt dismissal, the mayor doubled down on his decision. He said Chief Blackwell has the discipline and composure the job needs, adding, "I know that he's the man to get the job done."
However, if Chief Blackwell was supposed to be out front making his presence felt, quite the opposite appears to be happening.
Instead, he has avoided making any public appearances — a sharp contrast for a city used to police chiefs who court the news media and are eager to be seen and heard around the city.
Chief Blackwell has rejected requests for interviews and has not turned out for major public events, including the Juneteenth celebrations last week during his first days at the helm.
It is not clear whether he has been out at demonstrations with his officers or what his role has been in ordering the firing of tear gas, pepper spray and rubber bullets to disperse protesters during several demonstrations earlier this week that the police declared an "unlawful assembly."
It also is not clear whether Chief Blackwell has met with civic or business leaders, talked with members of City Council or begun building community connections to tackle the mayor's plan for police reform.
At the same time, his ability to command community respect and allegiance might have been undermined from the start as his face and name were blasted on social media as an officer who killed a civilian.
At a moment when Richmond and other cities continued to be shaken by protests over police violence and racial bigotry ignited by a police officer killing George Floyd in Minneapolis, the discovery of that skeleton in Chief Blackwell's closet has come at the wrong time.
As recounted in 18-year-old news articles, then-Officer Blackwell fatally shot Jeramy O. Gilliam, in 2002 during a burglary investigation in a neighborhood near Byrd Park.
As reported, Officer Black- well confronted Mr. Gilliam on Idlewood Avenue, three blocks from the burglary location, and asked for his ID, although Mr. Gilliam did not fit the description of the suspect broadcast by police.
Officer Blackwell asserted at the time that Mr. Gilliam pulled a gun instead. As he recounted, after knocking the gun away, Officer Blackwell reported the two men got into a wrestling match as he sought to subdue Mr. Gilliam, and he shot Mr. Gilliam twice in the back in self-defense during the altercation.
Richmond's Commonwealth's Attorney at the time, former Judge David M. Hicks, took the case to the grand jury, which declined to indict the officer for involuntary manslaughter, keeping Chief Blackwell's life and career on track.