Rev. William E. Clarke, longtime teach and minister, succumbs at 83
3/6/2020, 6 a.m.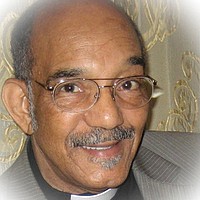 The Rev. William Edward Clarke built a reputation as a kind, helpful person in following two career paths — teaching and the ministry.
The Petersburg native and Army veteran was a respected teacher for 23 years at Blackwell Elementary School in Richmond.
Then at age 47, he found his second calling. He was licensed to preach in 1984 and, a year later, was ordained and accepted the call to pastor Pleasant Hill Baptist Church in Lawrenceville.
He led the church for 23 years before retiring at age 72.
The motto he lived by, according to his family: "If I can help somebody as I pass along, then my living will not be in vain."
Rev. Clarke died Saturday, Feb. 22, 2020. He was 83.
Family and friends offered final tributes to Rev. Clarke at a funeral service Friday, Feb. 28, at Brown Grove Baptist Church in Midlothian. Burial was in the Virginia Veterans Cemetery in Amelia County.
A graduate of Peabody High School in Petersburg, Rev. Clarke served in the Army's 82nd Airborne Division after being drafted.
Following his military service, he began teaching at Blackwell Elementary after completing his undergraduate degree at Virginia Commonwealth University, where he later earned his master's in administration and supervision.
He also studied at the seminary at Virginia Union University as his interest turned to the ministry.
During his pastorate, he was involved with the Unified Shiloh Association and the Baptist Children's Home of Virginia.
Survivors include his wife of 60 years, Zeldna T. Clarke; a son, Rodney A. Clarke; a sister, Julia C. Richardson; and a grandson.