Beyonce Mass draws crowd, criticism
Adelle M. Banks/Religion News Service | 3/13/2020, 6 a.m.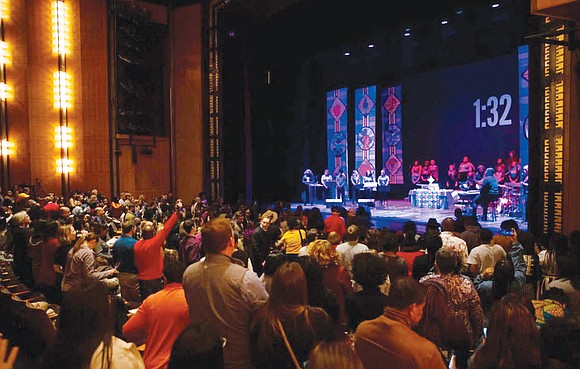 Later, after the singing of "I Was Here," a video played featuring women telling their stories of being among the first in their career fields and desiring to improve society for others.
Through a song like "Flaws and All," a staple of Beyoncé Mass wherever it has been held, Rev. Norton said, the singer's music can be sung as a prayer by women facing a range of emotions as they encounter God.
"The chorus of the song is, 'I don't know why you love me and that's why I love you,'" said the Christian Church (Disciples of Christ) minister. "I don't know about anybody else, but that tends to be my refrain with God. I'm not quite sure why God loves me, but I really do love God."
Dean Emilie Townes of Vanderbilt University Divin- ity School said Rev. Norton has used Beyoncé's music to create a service that empowers the spiritual journeys of black women but also "is stirring, it is thoughtful, it is liberating. It is a holy Mass that can free us all."
Others have been less af- firming of the liturgical use of Beyoncé's music in a service that includes a "Womanist Lord's Prayer" that begins with the words "Our Mother, who is in heaven and within us, We call upon your names."
After the event at the Epis- copal cathedral in San Francisco, author David Fiorazo wrote that "doing this at a church was both confusing and controversial." Juicy Ecumenism blogger Jeffrey Walton called that same service "predictably over-the-top."
The Rev. Wil Gafney of Brite Divinity School, who noted that the secular and the sacred have always coexisted in church settings, said Beyoncé Mass seems to have raised more eyebrows than did the U2cha- rist services that were popular among young Episcopalians in the early 2000s.
"I didn't see or hear the accusation that people were worshipping U2 or quite the volume of 'is this appropriate' questions," said Rev. Gafney, a professor of Hebrew Bible. Beyoncé, who has described St. John's United Methodist Church in Houston as her "home," has been known to represent a wide array of religious experiences. She sang "Ave Maria" on her 2008 "I Am ... Sasha Fierce" album. She evoked Divine Mother imagery from various religious traditions during her 2017 Grammys performance. And in February, she was backed by a choir dressed in white as she sang "XO" and "Halo" at the memorial service for basketball star Kobe Bryant and his 13-year-old daughter, Gianna.
Every Beyoncé Mass is a little different. The one in Washington did not have its usual Communion service because of coronavirus concerns.
Rev. Norton concluded by asking the Kennedy Center con- gregation, rich or poor, churchgoer or not, to keep lifting themselves up along with others.
"We have broken enough in this world. We have done enough harm and damage. But I believe through Christ Jesus, we can start over," she said. "Go into the world and do the good thing that God is calling us to. Go in peace and go with God."