Rev. Wright: Faith traditions give hope for life's journey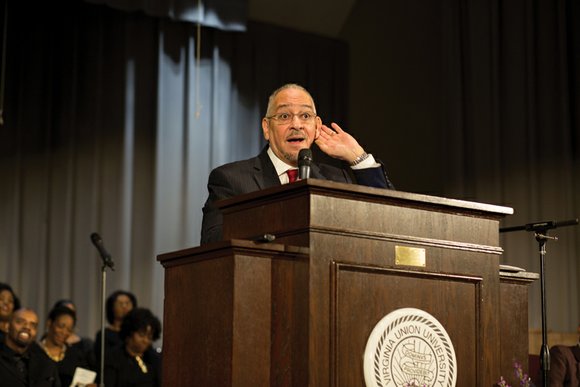 His voice didn't reach the thunderous crescendo for which he is well known.
Nor did he use the fiery cadences with which he has stirringly moved worshippers and other audiences for more than four decades.
Speaking in mostly soft, measured tones, the Rev. Jeremiah A. Wright, President Obama's former pastor at Trinity United Church of Christ in Chicago, still drew enthusiastic applause from about 200 people last Thursday in the Allix B. James Chapel at Virginia Union University. Rev. Wright gave the sermon at the "Bridging the Gap Community Worship Service" to honor Dr. Wyatt Tee Walker, a Virginia Union alumnus and civil rights icon.
The service was the kickoff of the "Legacy of a Legend" weekend designed to commemorate Dr. Walker of Chesterfield County, a former chief of staff to Dr. Martin Luther King Sr.
The commemorative weekend was organized by the Wyatt Tee Walker Education Foundation and Gamma Chapter of Alpha Phi Alpha Fraternity, to which Dr. Walker has belonged for more than 70 years and Dr. King was a member, according to organizers.
Dr. Walker, who is now 86 and has health issues, attended an event on the VUU campus earlier in the day.
Rev. Wright, 74, is on the VUU Board of Trustees and an adjunct professor in the university's Samuel DeWitt Proctor School of Theology.
He titled his biblical message "Singing the Songs of Zion," and drew it from Psalm 137, verses 1 through 4. It tells of the enslaved Jewish people's efforts to fight despair and ridicule while in exile following the Babylonian conquest of their home of Jerusalem in 607 BC.
In part, the scripture reads, "By the rivers of Babylon we sat and wept when we remembered Zion. … Our captors asked us for songs, our tormentors demanded songs of joy; they said, 'Sing us one of the songs of Zion!'
"How can we sing the songs of the Lord while in a foreign land?"
Rev. Wright said their plight parallels that of the millions of enslaved Africans who were transported to the Caribbean and the Americas. They sang sacred spiritual songs to draw nearer to God, form bonds and gain strength to try and endure the horrific forms of abuse to which they were subjected.
After they came to the Americas, Rev. Wright said, "Africans took the words of white hymnists and put them in the tunes and the melodies from back home," songs that many African-Americans still sing today in houses of worship.
"The Jews took their songs 5,448 miles from Bethlehem to Babylon." By comparison, he added, "songs that were passed from (locales such as) Durban, South Africa, to Charleston, South Carolina" would have traveled 8,427 miles.
"Singing kept their faith traditions alive," Rev. Wright said of the enslaved Jews and Africans. "Singing the songs of Zion keeps our faith traditions alive in this present generation," he added of African-Americans.
He praised Dr. Walker's lifelong efforts as an Afromusicologist to study, preserve and restore the sacred black songs for present and future generations.