Wyatt T. Walker to be honored at VUU events
1/22/2016, 12:59 p.m.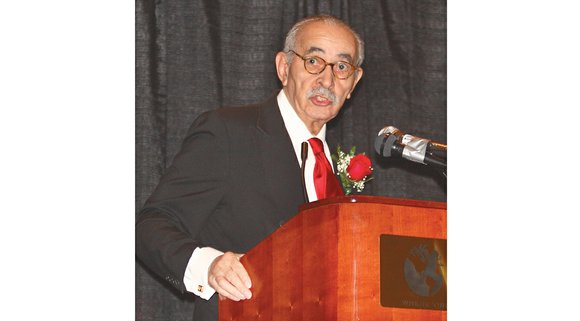 Civil rights icon and Virginia Union University alumnus Dr. Wyatt Tee Walker will be honored at events on the campus of his alma mater Thursday, Jan. 28, through Saturday, Jan. 30.
The commemoration of the former chief of staff to Dr. Martin Luther King Jr. is the first "Legacy of a Legend" weekend. It is being organized by the Gamma Chapter of Alpha Phi Alpha Fraternity, to which Dr. Walker has belonged for more than 70 years and Dr. King was a member, and the Wyatt Tee Walker Education Foundation, according to organizers.
The Rev. Jeremiah A. Wright will speak at the kickoff event, "Bridging the Gap Community Worship Service," from 7 to 9 p.m. Thursday, Jan. 28, in the Allix B. James Chapel at VUU's Coburn Hall.
Now retired, Rev. Wright was President Obama's pastor at Trinity United Church of Christ in Chicago for more than 20 years and was once described by the president as his spiritual adviser.
The Rev. Michael L.W. Moore of Mount Vernon Baptist Church in the West End is serving as the worship leader.
The worship service is free and open to the public.
At 1 p.m. Saturday, Jan. 30, several speakers will pay tribute to Dr. Walker and his illustrious career at the "Wyatt Tee Walker Scholarship Luncheon" at the Claude G. Perkins Living and Learning Center on the VUU campus.
Speakers will include VUU President Claude G. Perkins; Dr. Boykin Sanders, professor of New Testament Studies and Greek at VUU's Samuel DeWitt Proctor School of Theology; Mark S. Tillman, national president of Alpha Phi Alpha Fraternity; and the Rev. Grady Powell, a former pastor at historic Gillfield Baptist Church in
Petersburg, where Dr. Walker began his pastoral career in 1953.
Tickets for the luncheon are $75.
Also during the weekend, scholarship awards will be presented to current high school seniors.
For more information or to purchase luncheon tickets: Ryan Bell, (804) 928-2135.