Wyatt Tee Walker symposium canceled
9/13/2018, 6 a.m.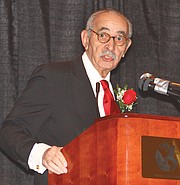 The Wyatt Tee Walker Symposium set for Thursday, Sept. 13, at the University of Richmond has been canceled because of Hurricane Florence.
UR officials announced cancellation of the free public event on Wednesday, but said the symposium would be rescheduled. A specific date has not been selected.
The program was to celebrate the life and legacy of the late Dr. Walker, who was a key aide to Dr. Martin Luther King Jr. during the Civil Rights Movement before spending nearly 40 years as an activist pastor in Harlem.
Dr. Walker died in January and left his personal papers to the university.