National religious leaders, scholars expected for symposium Feb. 19-21
2/14/2020, 6 a.m.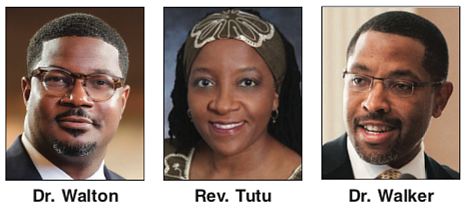 Scholars from across the country are expected to attend a national symposium in Richmond exploring the politics of black religion through the legacy of Dr. Wyatt Tee Walker, a civil rights icon, theologian and key aide to Dr. Martin Luther King Jr.
The symposium, "Wyatt Tee Walker and the Politics of Black Religion," will be held Feb. 19 through 21 starting at the University of Virginia and then moving for the final two days to the University of Richmond.
All sessions are free and open to the public.
The opening session, 1:30 to 3 p.m. Wednesday, Feb. 19, at the Dome Room in The Rotunda at U.Va. in Charlottesville, will focus on "The Politics of Black Religion in the Age of Trump."
The Rev. Canon Nontombi Naomi Tutu, daughter of South African Bishop Desmond Tutu, will speak, along with Dr. Corey D.B. Walker, on "Race, Religion and Politics in an Age of Extremes," 7 to 8:30 p.m. Thursday, Feb. 20, at UR's Modlin Center for the Arts.
The Rev. Tutu is cathedral missioner for racial and economic equity and missioner for the Kairos West Community Center with The Cathedral of All Souls in Asheville, N.C.
Dr. Walker, former dean of Virginia Union University's School of Theology, is a visiting professor at UR's Jepson School of Leadership and the School of Arts and Sciences.
Panel discussions will be held beginning at 9 a.m. Friday, Feb. 21 at UR's Modlin Center for the Arts on "Aesthetics of Black Religion," "Democratic Faith of Black Religion," "Politics of Black Religion" and "Rethinking Black Religion, Rethinking Public Life."
Dr. Jonathan L. Walton, a social ethicist, Morehouse College graduate and dean of the School of Divinity at Wake Forest University, will give the keynote address at 4 p.m. Friday, Feb. 21, at the Modlin Center for the Arts.
Details, including the symposium schedule: www.richmond.edu/walker.