Dr. Wyatt Tee Walker remembered at service
2/22/2018, 7:57 p.m.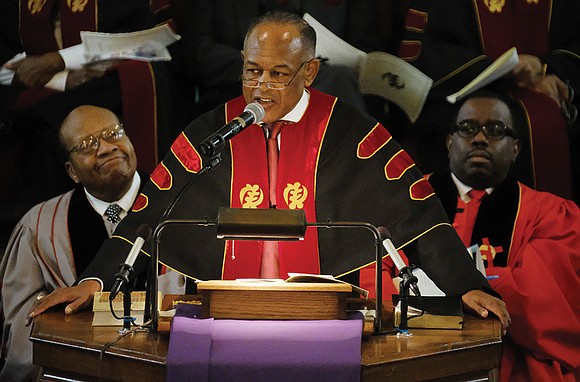 By Leah Hobbs
The life and impact of Dr. Wyatt Tee Walker was remembered Saturday during a memorial service for the noted civil rights leader and minister held at Petersburg's Gillfield Baptist Church.
"I wonder if the people of Petersburg are aware of your place and significance in American, dare I say, global history, for it was here that God chose Dr. Walker to work in the arena of history," Dr. Joseph N. Evans, dean of the Morehouse School of Religion in Atlanta, told the gathering of more than 300 people.
"So we come here today to this citadel of the faith to pay tribute to the man."
Dr. Walker, 88, who served as Dr. Martin Luther King Jr.'s chief strategist in his role as executive director of the Southern Christian Leadership Conference in the 1960s, died Tuesday, Jan. 23, in Chester, where he lived for the last 14 years.
After earning his bachelor's degree in chemistry and physics and a master's in divinity from Virginia Union University, he began his ministry and activism in Petersburg, where he was pastor of Gillfield Baptist in 1953, along with Mt. Level Baptist Church in Dinwiddie.
He served as president of the Petersburg Branch NAACP, leading nonviolent protests against segregated public facilities, including the city's public library, swimming pool and lunch counters at the bus terminal. He was arrested 17 times.
He and his wife of 67 years, Theresa Ann Walker, his college sweetheart, were "Freedom Riders," protesting segregated interstate public transportation by riding buses with interracial groups into Southern states in defiance of Jim Crow travel laws.
He played a key role in devising boycotts and demonstrations for Dr. King, including the August 1963 March on Washington for Jobs and Freedom, and raising money to support the SCLC's crucial civil rights work.
He also was instrumental in circulating Dr. King's famous "Letter From Birmingham Jail," written in April 1963.
Later, as pastor of Canaan Baptist Church in Harlem from 1966 until a stroke forced his retirement in 2004, he led the church's development of affordable housing, retail stores and a senior services center. He also founded a charter school in Harlem.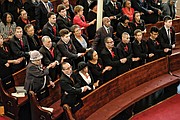 Dignitaries, including 4th District Congressman A. Donald McEachin, state Sens. Rosalyn R. Dance of Petersburg and Jennifer L. McClellan of Richmond, and Mayor Levar M. Stoney, attended the service, while an officiant said the Walker family has received letters of tribute and sympathy from former President Clinton, U.S. Sens. Tim Kaine and Mark Warner, Congressman John Lewis of Georgia, former New York Mayor Michael Bloomberg, Virginia Gov. Ralph S. Northam and Lt. Gov. Justin E. Fairfax, to name a few.
Dr. Evans described how Dr. Walker and Dr. King met on the campus of Virginia Union University in the 1950s.
"Who would have thought, and how could we see, that he would plan the movements of our time that changed history," he said.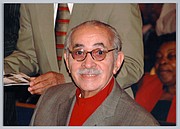 Dr. Walker was a mentor to many, including Dr. Dwight C. Jones, a VUU graduate and senior pastor of First Baptist Church of South Richmond, who represented Richmond in the Virginia House of Delegates and served eight years as Richmond's mayor until December 2016.
"After all, to have (African-American) mayors and governors and congressmen and even a president was what he fought for as a freedom fighter," Dr. Jones said. "That blacks could sit in seats of power to fight oppression and to provide access to the least of these, and to ensure the rights of every man are protected and that access is provided without regard for a person's ethnicity was what Dr. Walker was all about. When he saw the generations that came behind him fulfilling that, he was extremely proud."
Dr. Jones said he was proud when Dr. Walker and his wife joined his church, First Baptist, in recent years.
Dr. Walker, who served on the faculties of three seminaries and was interim dean of doctoral studies at Union Theological Seminary in New York, published several books in the field of ethnomusicology and was viewed as an authority on African-American sacred music.
The music-filled memorial service included an arrangement by Dr. Walker of the spiritual, "Somebody's Calling My Name." The Rev. Nolan Williams Jr., chief music editor of The African-American Heritage Hymnal, for which Dr. Walker wrote the introduction, also offered a musical tribute.
"The memory of Dr. Walker calls on us to continue contemplating the world not as it is, but as it might be," said Dr. Ronald A. Crutcher, president of the University of Richmond, where Dr. Walker's papers and artifacts will be available to scholars and the public for research.
"Because of all that he shared with us, we do not fear the loss of the memory of Dr. Walker," he continued. "He bequeathed his life's work to our students and to scholars of all ages so that they may be inspired by his messages of equality and hope. We are humbled by our mission and will mind his treasure and preserve his legacy for all days."
A symposium in Dr. Walker's honor is being planned to introduce the collection to scholars and the public next fall, Dr. Crutcher said.