Dr. Wyatt Tee Walker, civil rights icon, chief of staff to Dr. King, dies in Chester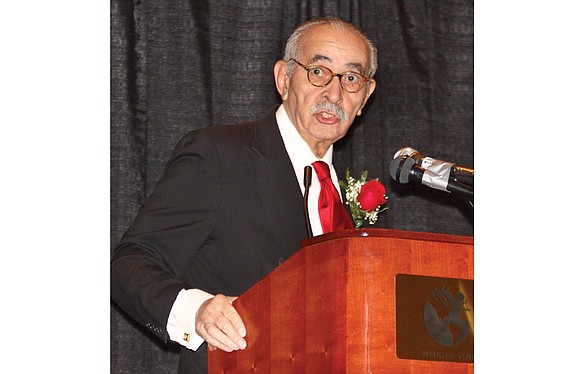 Dr. Wyatt Tee Walker Jr. did all he could to advance civil rights during his long life.
He is credited with being the key strategist behind many of the civil rights protests that Dr. Martin Luther King Jr. led in seeking to end the racial injustice of Jim Crow in the 1960s.
During his four years as Dr. King's chief of staff, he helped raise the money for and orchestrate major civil rights protests.
Dr. Walker came to Dr. King's attention after leading protests against segregation in Petersburg that resulted in his repeated arrests. At the time, he was pastor of Petersburg's Gillfield Baptist Church, which he led for seven years.
On New Year's Day in 1959, he led a "Pilgrimage of Prayer" in Richmond against school segregation.
Dr. Walker's contributions to justice and freedom in America are being remembered following his death Tuesday, Jan. 23, 2018, in Chester, near Petersburg, where he lived for the last 14 years. He was 88.
Funeral arrangements were incomplete at Free Press deadline on Wednesday.
The Rev. Al Sharpton, a family friend, announced the death of Dr. Walker, who also was the first board chairman of Rev. Sharpton's National Action Network.

"A true giant and irreplaceable leader," Rev. Sharpton stated in releasing the information on Dr. Walker's death on Twitter. "A huge tree has fallen."
"America has lost a great civil rights leader," said Henry L. Marsh III, a retired civil rights attorney who served as Richmond's first African-American mayor and later as a state senator.
"He was a Virginia civil rights leader who earned a place on the national stage. The world is a better place because of his presence," said Mr. Marsh, who was deeply engaged in attacking segregation and racial injustice in the courts.
Dr. Walker spoke against bigotry and racial oppression from pulpits in Petersburg, Atlanta, New York City and on five continents. He also was a leading voice in protesting apartheid in South Africa and was part of the team that helped supervise South Africa's first free elections in 1994 when the late Nelson Mandela was elected that country's president.
He also advocated for affordable housing and better schools in New York during his 37 years as the pastor of Canaan Baptist Church of Christ in Harlem.
The grandson of a former slave, Dr. Walker was born just before the start of the Great Depression on Aug. 16, 1929, in Brockton, Mass. He was the 10th of 11 children of the Rev. John Wise Walker and Maude Pinn Walker.
His father read both Greek and Hebrew and was a member of the 1899 graduating class of Virginia Union University. His mother also was a VUU graduate.
Although the family had little money after his father became pastor of a church in New Jersey where he grew up, Dr. Walker said his father instilled in him his passion for fighting racial injustice.
"My father was what we called a 'race man,'" Dr. Walker said. "He reacted to anything that smacked of racial injustice or prejudice. I was under that influence growing up. He was my first hero."