VUU honors Wyatt Tee Walker legacy with new society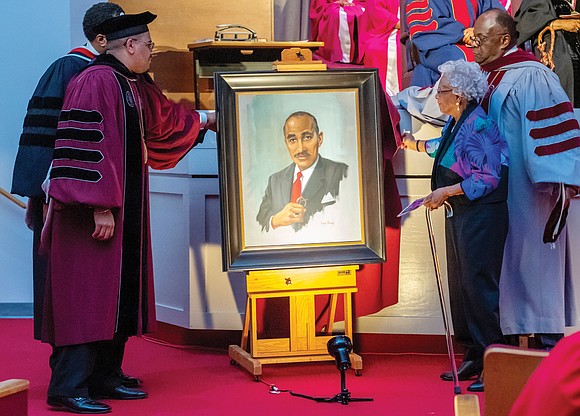 Virginia Union University's Samuel DeWitt Proctor School of Theology announced the creation of the "Rev. Dr. Wyatt Tee Walker Social Justice Society of Preachers and Prophetic Witnesses" during a formal service Monday in Coburn Hall on campus.
The society will induct people who embody the leadership, spirit and dedication of Dr. Walker beginning in November 2020.
The family of the late Dr. Walker, a VUU alumnus, attended Monday night's ceremony.
"Virginia Union, through their educational programs, prepared him to walk among kings and queens and never be intimidated," said his widow, Ann Walker, in a statement released by the university.
Dr. Walker, who died in January 2018 at age 89, is credited with being the key strategist behind many of the civil rights protests that Dr. Martin Luther King Jr. led in seeking to end the racial injustice of Jim Crow in the 1960s.
After graduating from VUU magna cum laude with a bachelor's in chemistry and physics in 1950 and a master's of divinity in 1953, Dr. Walker came to Dr. King's attention after leading protests against segregation in Petersburg resulting in his repeated arrests. At the time, Dr. Walker was pastor of Petersburg's Gillfield Baptist Church.
He went on to serve as Dr. King's chief of staff and an early board member of the Southern Christian Leadership Conference, which Dr. King founded. He served as executive director of the SCLC from 1960 to 1964.
Later, Dr. Walker was called as senior pastor of Canaan Baptist Church of Christ in Harlem, where he served for 37 years.
During Monday's ceremony, a portrait of Dr. Walker was unveiled, along with an image of a medallion to be awarded to future society honorees.
"We are honored to take part in the building of such an extraordinary honor in the name of our dear friend and alumnus Dr. Wyatt T. Walker," said Dr. Hakim J. Lucas, president and0 CEO of Virginia Union University. "Virginia Union University will forever honor its son."
The ceremony kicked off the 70th Annual Ellison-Jones Convocation that will run through Thursday, Nov. 14, at VUU. The convocation draws religions leaders from across the country to lecture on praise and worship, ministry and the role of music in delivering a message.
Among the presenters are Dr. Rudolph W. McKissick, senior pastor of The Bethel Church in Jacksonville, Fla., and Dr. Howard-John Wesley, senior pastor of Alfred Street Baptist Church in Alexandria.