RPS centers open to families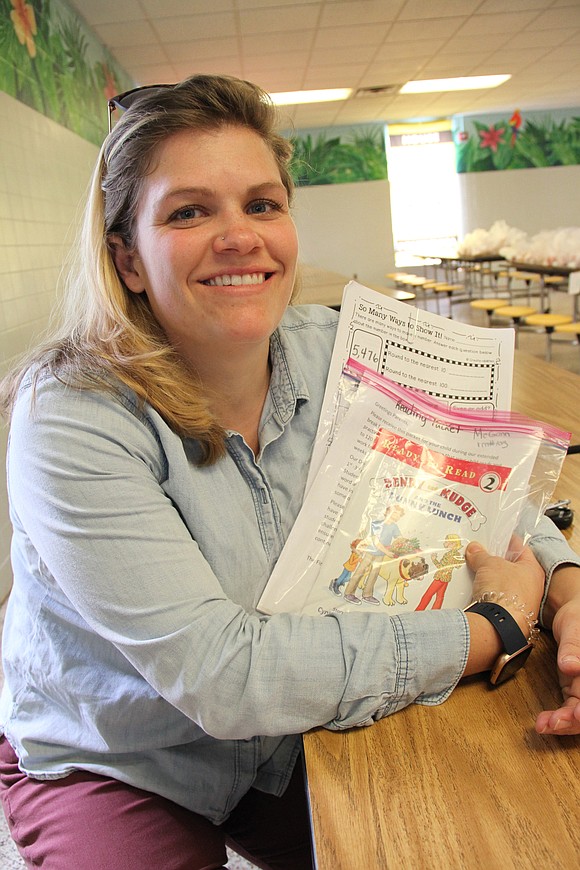 Kate Johnson had a difficult time finding where to pick up food at Chimborazo Elementary School on Monday.
There was no sign posted on the front door of the school on East Marshall Street in the East End.
Looking to pick up food and lesson plans for her three boys, Parker, a third-grader, Jonah, who's in first grade, and her preschooler, in this new age of coronavirus, Ms. Johnson persisted until she found the right entry in the rear of the building.
She picked up schoolwork and pre-packaged bags of breakfast and lunch for the boys before heading out.
"I am going to be home and I want (the boys) to continue to read and work on their academics," said Ms. Johnson, a part-time worker who said her employer will continue paying her for the next two weeks. Her husband, an employee at Virginia Commonwealth Uni- versity, was still waiting to hear whether his department would be closed down because of the pandemic.
She said she and her husband are telling their children to wash their hands more.
"What really concerns me is our neighbors," Ms. Johnson said. "A lot of them are over 60 years old."
The week started a stressful and chaotic time for many families as area schools and some before- and after-school programs shut down to help prevent the spread of COVID-19. Parents across the city are scrambling to get child care as they adjust their work and family schedules, making sure their children are fed and keeping up with schoolwork.
What started out as a two-week closure for Richmond Public Schools suddenly expanded to become a four-week break, with more than 24,000 students out of classes until April 13, or longer. Chimborazo Elementary was one of 20 school-based food distribution centers opened Monday by RPS to make sure families have what they need during this time of unsteadiness. On Tuesday, RPS officials announced that an additional 15 food distribution points would be opened in various community centers.
On Monday and Tuesday, turnout for food was light. On those days, the breakfast packages included cereal, milk, juice, a pastry and a piece of fruit, while lunch included a ham and cheese croissant, fruit and vegetable and hamburger or cheeseburger sliders.
"I think people are using what they have at home," said Mark Cattie, coordinator at Blackwell Elementary School in South Side. "Toward the weekend, we may see a peak of people coming in because our children really need these meals."
Linda Fleming, a mother of five pregnant with her sixth child, headed into Boushall Middle School with daughters, Radasia, 8, a third-grader, and Raeeke Bucler, 12, a seventh-grader.
"Right now, I have to limit my working," said Ms. Fleming, adding that she is using sick leave and vacation time to stay home with her children. "I don't want my children to go to one babysitter after another because there is no one to stay home with them. I don't want them to risk getting the coronavirus."
Lesley Moseley, whose daughter attends Martin Luther King Jr. Middle School, picked up food from George Mason Elementary in Church Hill because it was closer to their home.
"My daughter had all of the homework assignments and she is keeping up to date on her work," Mr. Moseley said.
While normal routines are disrupted, the pandemic is pulling generations within families together.
One grandmother of six, a retiree who did not want her name published, was leaving George Wythe High School with her arms filled with food. Three of her grandchildren attend Richmond schools, she said, while three attend school in Chesterfield County.
Her concern, she said, centers on the unknown – who is a carrier of the virus and who isn't.
"I am doing all I can for my family," she said. "There is no vaccine for the virus and that's scary."