Homegoing for Bishop
5/28/2020, 6 p.m.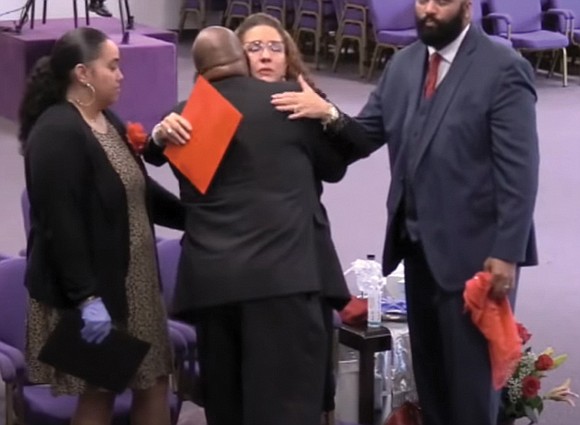 Mother Marcietia S. Glenn, first lady of New Deliverance Evangelistic Church in Chesterfield County, is comforted during the funeral last Friday of her late husband, Bishop Gerald O. Glenn. The 66-year-old founder and pastor of the church died Saturday, April 11, 2020, of complications from the coronavirus, which struck him, his wife, one of his daughters and son-in-law in March.
Mrs. Glenn and her daughter, Mar-Gerie Crawley, spoke at the service, which was held at the church, attended only by immediate family members and streamed on the church's website. They talked about about the pain and grief the family has gone through, as well as the family's strength and the bishop's eternal love.
"God is greater than COVID-19," Mrs. Glenn said, repeating a refrain Bishop Glenn used during his final sermon on March 22 before being stricken by the virus. "Nothing catches God by surprise," Mrs. Glenn said. "This is what is supposed to be. We have to praise Him."
The funeral has been posted on the church's YouTube channel.