Richmond native Dr. Elizabeth Bouey-Yates, educator and philanthropist, dies in S.C.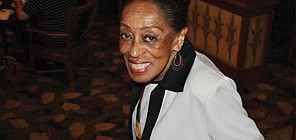 Resource-starved schools in South Africa are benefiting from the work of Richmond native Dr. Elizabeth "Bettye" Bouey-Yates.
A longtime educator, Dr. Bouey-Yates regularly led tours to the African nation and used the profits to fuel a foundation that contributes books, dictionaries, art supplies and other materials to schools including Christianenburg Primary, the initial recipient of her philanthropy.
The work she began continues even after her death on Friday, May 1, 2020, at her retirement home in Sumter, S.C.
The tours she began informally are still being offered through Yates Tours, a company she co-founded with a South African partner in 1996.
The company, which also provides guided tours to Ghana, China and several other countries, provides a revenue stream for the Washington, D.C.-based Dr. Bettye Bouey-Yates Foundation that she and supporters created in 1998 to provide donations to South African schools.
Born in Richmond on June 11, 1925, Dr. Bouey-Yates was the daughter of the late Rev. Edward H. Bouey, a longtime missionary who pastored Mt. Calvary Baptist Church in Richmond, and missionary Elizabeth Coles Bouey, founder of the International Association of Ministers' Wives and Ministers' Widows.
Growing up, Dr. Bouey-Yates frequently traveled to Liberia and other African nations on mission trips with her parents.
She later spent much of her career teaching courses on African and African-American history at the Northern Virginia Community College and as an adjunct professor at George Mason and George Washington universities and Potomac College.
After retiring, she began taking friends with her to South Africa and became aware of the scarcity of educational materials in visiting Christianenburg Primary, located outside of Durban and which now ranks as one of the top schools in its area. Other beneficiaries include Clermont Public Primary School and Clernaville Public Primary School, both near Durban.
Dr. Bouey-Yates continued to lead personal tours until she retired a few years ago, the foundation noted.
Dr. Bouey-Yates was predeceased by her husband, Herman Yates. She has no immediate survivors.