Longtime educator Rebecca H.Taylor dies at 90
12/8/2017, 6:48 a.m.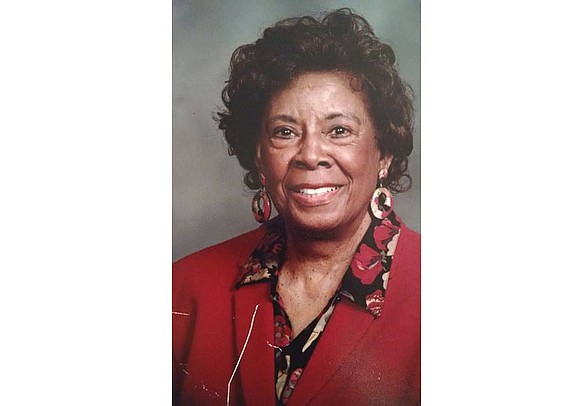 Rebecca Ham Taylor touched the lives of thousands of children during her 44-year career in education.
The Sumter, S.C., native sought to improve student literacy during her 20 years as a reading specialist for Richmond Public Schools and also offered leadership lessons to other teachers in workshops through the National Education Association and the Virginia Education Association.
The widow of the Rev. George S. Taylor, an educator, Army chaplain and minister, she also taught in schools in South Carolina and Northern Virginia, and helped teachers adjust to court-ordered integration of schools in Oklahoma City during the 1960s.
In 1994, Mrs. Taylor became the first African-American docent at the Virginia Museum of Fine Arts. She led seminars on art history and promoted school tours of the museum.
Her contributions are being remembered following her death Thursday, Nov. 23, 2017, in a local hospital. She was 90.
Family and friends celebrated her life Thursday, Nov. 30, at Providence Park Baptist Church where she worshipped in Richmond. She was buried next to her husband at Quantico National Cemetery in Northern Virginia.
Born in 1927, Mrs. Taylor began teaching sixth-grade students at a rural South Carolina school following her graduation from South Carolina State University in 1949.
In 1953, she and her new husband moved to Washington. While he served in the Army, she taught in the Arlington Public Schools and earned her master's in elementary education from George Washington University.
When the family moved to Fort Sill, Okla., for Rev. Taylor's new assignment, she initially taught in area elementary schools. She was hired in 1962 to co-direct programs in Oklahoma City to aid teachers to adjust to court-ordered integration. Her training sessions were videotaped and used in school districts in Oklahoma, as well as districts in Kansas, Missouri and Texas.
She and her husband moved to Richmond in 1973 after he was named director of Virginia Union University's School of Arts and Sciences. Mrs. Taylor taught education courses for a year at VUU before joining RPS as a reading specialist. She retired in 1994, but continued to teach at J. Sargeant Reynolds Community College.
She also was active in the area churches her husband pastored, including Mount Olive Baptist in Richmond, Good Hope Baptist in Dunnsville and Second Mount Olive Baptist in King and Queen County.
Her husband, who later chaired the Virginia State University Department of Sociology and Social Work and founded and directed VSU's administration of justice program, died in 2013.
Mrs. Taylor was a member of thre Richmond Alumnae Chapter of Delta Sigma Theta Sorority, which held an Omega Omega ceremony on Nov. 29. She also was a member of the Ministers' Wives and Widows Fellowship of Richmond and Vicinity and the Richmond Education Association.
Survivors include her daughters, Jana C. Taylor and Lynne S. Taylor, a grandson, a step-granddaughter and a great-granddaughter.