Lillie L. Taylor, longtime RPS administrator, succumbs at 88
5/4/2018, 8:18 a.m.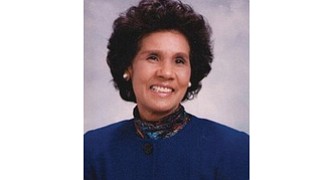 The life and faith of Lillie Lipscomb Taylor, a former teacher and longtime supervisor of business and economic education programs for Richmond Public Schools, was celebrated during a funeral service Thursday, April 26, 2018, at Great Hope Baptist Church.
Mrs. Taylor, who was active with her church, sorority and numerous other organizations, died Friday, April 20, 2018. She was 88.
A native of South Boston, Mrs. Taylor earned a bachelor's degree in business education from Virginia State College, where she was the first Miss ROTC in 1948.
She started her career as a secretary at the state Department of Education in Richmond before moving to Charlottesville to teach at Burley High School. Returning to Richmond, she taught briefly at John M. Gandy School in Hanover and seven years at Maggie L. Walker High School before taking a leave of absence.
Returning to the classroom, Mrs. Taylor taught at East End Middle School and later John F. Kennedy High School before being assigned as the head of the business education department at Huguenot High School.
She spent the last 20 years of her career with Richmond Public Schools in administration, serving as supervisor of business and economic education programs. She retired in 1992.
Mrs. Taylor offered her expertise and active engagement to numerous organizations and boards, including Junior Achievement Inc., The Virginia Council on Economic Education, the Richmond Economic Development Council and the Administrative Management Society.
She also served for 12 years on the board of directors of Richmond Community Hospital.
Mrs. Taylor was recognized with numerous awards, including the Outstanding Service Award from the Virginia Council of Economic Education. She also was inducted into the Richmond Business Education Hall of Fame.
She was a member of Great Hope Baptist Church in the East End for 55 years, serving as chairman of numerous committees, including the church's 50th Anniversary Committee.
She also was active for 67 years with the Upsilon Omega Chapter of Alpha Kappa Alpha Sorority Inc., serving in various capacities, including president. The sorority held an Ivy Beyond the Wall ceremony on Wednesday, April 26. Internment was in Forest Lawn Cemetery.
Mrs. Taylor was preceded in death by her husband, Morris Taylor Sr., and her daughter, Patrice Taylor Johnson.
Survivors include her daughter, Debra Gayle Taylor; sons, Morris Taylor Jr. and Stephen Bryan Taylor; three grandchildren; two great-grandchildren; a sister, Alice Lipscomb Jernigan; and other family and friends.