Retired RPS educator Juanita T. Bates dies at 88
3/18/2021, 6 p.m.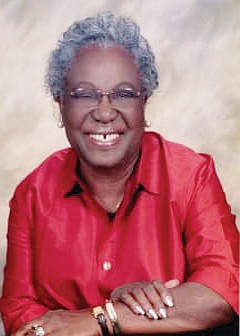 Juanita Threadgill Bates was known for her devotion to the Richmond students she taught in an education career that spanned 53 years.
For 20 years, "she made certain that every child she taught had a hat, coat and gloves in the winter," said Dr. Renata A. Hedrington-Jones, a longtime friend and sorority sister of Mrs. Bates and a fellow retired Richmond educator.
And when Mrs. Bates' students grew up and started businesses, she not only employed them for projects at her home, but she would enthusiastically recommend their services to members of her family, her sorority and her church, St. Peter Baptist Church in Glen Allen.
"She always guaranteed that if you hired her 'babies' for yard work, painting, HVAC repairs or whatever, you would never go anywhere else," Dr. Hedrington-Jones said.
Though she never had children of her own, Mrs. Bates' dedication to those she met through Richmond Public Schools is being remembered following her death Friday, March 5, 2021.
The Henrico County resident was 88.
Family, friends and admirers celebrated Mrs. Bates' life on Friday, March 12, at the Scott's Funeral Home Chapel in North Side. Dr. Kirkland R. Walton, pastor of St. Peter Baptist Church, officiated and delivered the eulogy.
She was buried in Roselawn Memorial Gardens in Glen Allen.
During her first 30 years in Richmond, Mrs. Bates worked with special education students mostly at the middle school level.After she officially retired from Richmond Public Schools in 1993, she couldn't stay away. For the next five years, she returned to the classroom as a substitute teacher.
Then between 2000 and 2008, Dr. Hedrington-Jones said Mrs. Bates served as a reading specialist for children who needed extra help. She was working at Woodville Elementary School in the East End when she wrapped up her career at age 76.
"Her passion for learning and children was contagious," Dr. Hedrington-Jones said.
Born in High Point, N.C., Mrs. Bates earned her undergraduate degree at Virginia Union University. Afterward, she taught for 10 years in the Culpeper County Public Schools before joining the RPS faculty. She also earned a master's in exceptional education from Virginia Commonwealth University
She taught at Binford, Chandler, Henderson and Albert Hill middle schools and at Norrell and Carver elementary schools, among others. Those who knew her spoke of the support and encouragement she gave to the teachers she worked with.
Outside the classroom, Mrs. Bates was active in the Easter Seals organization that serves disabled children and served on the board of the Richmond Delta House Foundation, where she helped raise money to provide scholarships to RPS seniors.
She also volunteered with Big Brothers, Big Sisters. She was a Golden Life member of Delta Sigma Theta Sorority, which she joined in college. She served on committees of the sorority's Richmond Alumnae Chapter and also mentored a wide circle of younger women who were her Delta daughters.
Mrs. Bates also was active at St. Peter Baptist, where she served on the Finance Committee and the Ladies Auxiliary Usher Board, among other activities.
She was predeceased by her husband, Robert A. Bates. Survivors include several cousins and other relatives.