Richmonders react to Biden-Harris victory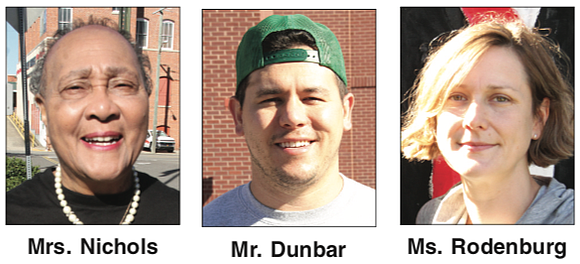 People around Richmond celebrated with jubilation Saturday the election of Democrats Joe Biden as president and U.S. Sen. Kamala Harris as the first woman, first Black and first South Asian vice president.
Brenda Nichols, a semi-retired music educator with Henrico County Public Schools and Virginia Union University, was elated when she learned Saturday of the Biden-Harris victory.
"I am so excited for America to see what Kamala Harris will expose to the world. What a great example she is for my five female grandchildren, as well as other African-American women of all complexions, colors and hues."
The Washington Park resident is a member of Alpha Kappa Alpha Sorority, which Sen. Harris pledged while a student at Howard University. Ms. Nichols said her daughter, Dr. Colita N. Fairfax, also an AKA and a member of Norfolk State University's faculty, was at Howard at the same time and was acquainted with Sen. Harris.
"We (the AKAs) take such pride and joy that Sister Kamala has proven the fact that we can achieve all things," Mrs. Nichols said. "We are grateful that she possesses the ability to be humble and trained to do this work she is privileged to do for America with incoming President Joseph Biden."
She said she has now witnessed two historic national elections – the election of President Obama, the nation's first Black president, and Sen. Harris.
"If you persevere, the goal will happen," Mrs. Nichols said of the historic elections. "We have to not just pray, but do works to make something happen."
Justin Dunbar, 34, who retired from the military and now works with Capital One, had goosebumps about the election's outcome on Saturday.
"It really matters to have a commander-in-chief with respect for American institutions, as well as for both political parties," Mr. Dunbar said. "It is incredibly important for a president, coming from one party, to represent everybody regardless of political party."
Mr. Dunbar, a South Side resident, is of Asian descent. He said he has a godson who is African-American.
He said as a member of the military, he worked with people of all races. He believes it's important for youngsters to see people in office who look like them.
"You don't understand how important representation matters until you see it," he said, "like in the movies 'Crazy Rich Asians' or 'Black Panther.' "
Mr. Biden and Sen. Harris are signs of hope, he said.
Charlotte Rodenburg, an adjunct professor in Virginia Commonwealth University's Art Department, sat on the porch steps of her North Richmond home, relief and happiness flooding her face. A "Black Lives Matter" banner was attached to her porch railing.
She and her husband, Josh, have two daughters, Xena, 7, and Zelda, 4. She was ecstatic that a woman will become vice president in the new year.
"We are in unprecedented times and it was important to let the process unfold in a way we (Americans) have never seen before," she said.
"Mr. Biden is the total opposite of President Trump. Mr. Biden is for love and togetherness, as well as working across the aisle.
"The silver lining is that we have discovered how much hate is still in America. And we can now start addressing some of this systemic racism in our country," she said.