City joining preservation effort for historic African-American cemetery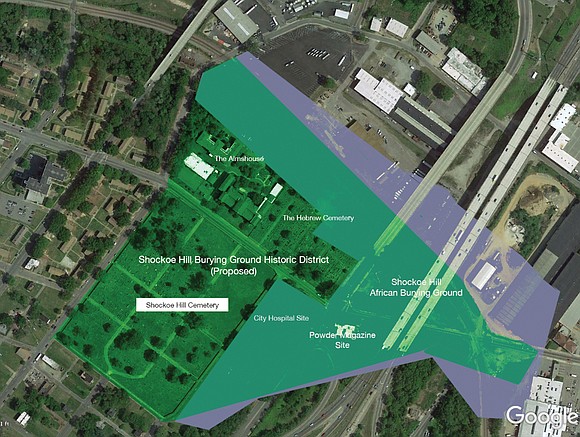 City Hall is finally joining an effort to recognize, preserve and protect a historic African-American cemetery that city government spent more than 120 years trying to erase.
On Monday, Mayor Levar M. Stoney introduced an ordinance that would incorporate the former Burial Ground for Free People of Color and Slaves at 1305 5th St. into the slavery heritage site planned for Shockoe Bottom.
The cemetery, located across 5th Street from the equally historic and far better tended and preserved Shockoe Hill and Hebrew cemeteries, would become part of the Slave Trail under the proposal that will go to the city Planning Commission next week before reaching City Council. Quick approval is anticipated from both bodies.
The ordinance would allow the city to tap $1 million in state funds that have been available for more than seven years to help pay for improvements to the Slave Trail, both at the trailhead at Ancarrow's Landing at the end of Maury Street and at this cemetery
According to the city, at least $145,000 would be earmarked to enable the city to pay off delinquent taxes and again take possession of the property, once owned by the city, that served as the final resting place for 21,000 African-Americans from 1816 to 1879.
The city long ago sold off the unmarked burial ground and allowed a service station and mechanic's shop, now defunct, to be built on top of the land.
The city also allowed the state to install pilings in the cemetery for the elevated portion of Interstate 64 that crosses the property and authorized private railroads to run their tracks through it.
This is the latest step in the campaign of Texas educator Lenora C. McQueen, who three years ago launched a crusade to rescue the forgotten burial ground where several of her ancestors are buried. Through her advocacy, the city halted plans to sell the property at auction to collect overdue taxes.
Since then, Ms. McQueen has compiled detailed documents and records on the burial ground with the assistance of several historians. As a result of that work, the state Department of Historic Resources recently cleared Ms. McQueen and her supporters to apply for inclusion of the property on the state and national registers of historic places.