New single-family homes, townhouses to be developed in Highland Grove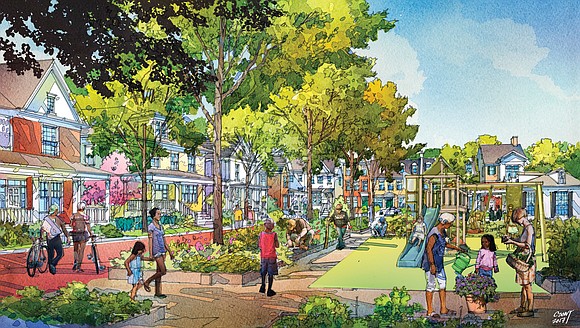 It has taken seven years, but a long-awaited mixed-income subdivision is being launched in the Highland Grove community in North Side.
The projected $35 million development promises to bring a minimum of 122 new single-family homes and townhouses to the cleared 40-acre parcel where the headquarters of the Virginia National Guard once stood. At least half of the homes are to carry lower price tags as affordable.
The property abuts Dove Street and Richmond-Henrico Turnpike and sits behind Overby-Sheppard Elementary School.
The nonprofit Better Housing Coalition is to announce the development 2 p.m. Friday, Oct. 30, at Dove and Althea streets, although it could take a year or more before home construction starts by a team of nonprofits groups.
Sixth District Councilwoman Ellen F. Robertson, who has been pushing since 2013 to get the housing development off the ground, is to emcee the ceremonial start to a project that involves City Hall as well as the landowner, the Richmond Redevelopment and Housing Authority.
Greta J. Harris, president and chief executive officer of the Better Housing Coalition, said that BHC has been tapped to serve as the master developer, "a first for us."
Before any houses can be built, BHC would need to install streets, curbs, lighting, underground utilities and other infrastructure, Ms. Harris said. Planning and installation of those necessities will take time, she said. Her hope is that the first homes could be built by late 2021 or early 2022.
She said a final contract is being negotiated. Once the deal is inked, she said that design work on the infrastructure can begin.
The city currently has about $4 million available to use for such work, but more may be needed. BHC also will build homes and has assembled other nonprofits to participate in the development once the infrastructure is installed. Those groups include the Maggie Walker Community Land Trust, project:Homes and Richmond Metropolitan Habitat for Humanity.
The planned housing community represents the second phase of redevelopment for an area long targeted for renewal.
The first phase, development of 128 mixed-income apartments, was completed in 2013, capping six years of effort stretching over the terms of two mayors, L. Douglas Wilder and Dwight C. Jones.
Laurel Street Residential, a Charlotte, N.C., firm, handled that development in partnership with RRHA. It replaced the old Dove Court public housing and the decaying Carrington Gardens apartments.
However, Laurel Street declined to undertake the second phase to build the new single-family homes and townhouses. Last year, RRHA secured city approval for the housing phase, laying the groundwork for the selection of the master developer.
"This is good news for the community," Ms. Robertson said. "It has taken a long time, but finally we have reached the starting gate."