VSU may lose $10M to $12M with decision to go virtual

The decision to keep students off campus for the first semester may cost Virginia State University $10 million to $12 million — just one example of the impact COVID-19 is having on higher education.
VSU President Makola M. Abdullah noted the price tag attached to having only virtual classes for the fall in a discussion last week with alumni.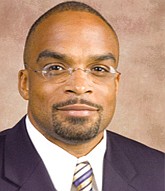 Despite what he said were VSU's best efforts to reopen the campus, the school ultimately joined many colleges and universities in deciding the risk and potential liability was too great to bring students back for in-person classes.
Along with the immediate loss of revenue from student payments of room and board that support debt service on residential buildings, Dr. Abdullah said some students, particularly freshmen, have rejected the virtual class model and have decided not to attend.
He said that will result in a smaller than expected Class of 2024. He added it also will be felt in fewer upperclassmen at VSU in the next three years as the freshmen move up.
"That's why this was one of the hardest decisions I have had to make," Dr. Abdullah said, "But I am confident that this was the right thing to do for the health and safety of our students, faculty and staff."
Dr. Abdullah said VSU had built up its financial reserves in the past two years and would be able to weather the financial problems, avoid a deficit and meet its debt obligations.
VSU previously eliminated $26 million from its budget for the current fiscal year that began July 1 to address projected revenue reductions due to the pandemic. Dr. Abdullah said VSU now will have to adjust again as a result of the decision to go virtual.
Among other impacts, he told the alumni that plans to roll out expanded marketing of undergraduate and graduate programs in computer science and computer technology have had to be put on hold. He also said that plans to beef up the school's fundraising operation also would need to be rethought.
However, he noted VSU is adding to its offerings, including two new online programs this fall, a bachelor's of science degree in nursing and a doctoral program in education. Several other additions, he said, are going through the approval process.