NSU and former Freeman H.S. runners win All-American status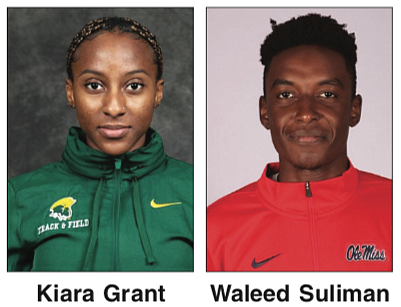 You don't have to be born in America to become an All-American.
Kiara Grant and Waleed Suliman can attest to that.
Grant is a Norfolk State University senior who arrived on campus from her native Jamaica.
Last week, she finished third in the 60-meter dash at the NCAA Division I Indoor Championships in Fayetteville, Ark.
Suliman, a former Douglas Freeman High School sensation who is now a senior at the University of Mississippi, finished third in the mile in Fayetteville.
Suliman came to the United States from Jordan.
The top eight at the NCAA Nationals, regardless of national origin, are awarded All-America status.
Grant covered the 60 meters in 7.16 seconds, trailing only Kemba Nelson of Oregon (7.05) and Twanisha Terry of Southern California (7.14). Suliman's third-place mile time was 3:57.26. He finished behind Oregon's Coke Hocker (3:53.7) and Alabama's Eliud Kipsang (3:55.93).
As a student at Freeman High School in Henrico County, Suliman won 10 state championships in track and cross country. His times of 4:04 for 1,600 meters, 4:04.3 for the mile and 14:49 for the 5K are the best of any athlete in Richmond area history.
Suliman, who has attained U.S. citizenship, will now focus on the U.S. Trials for the 2021 Summer Olympics. The trials are set for June 18 through 27 in Eugene, Ore.
The Olympics are scheduled for July 23 through Aug. 8 in Tokyo.
Suliman is eligible for both the U.S. and Sudanese Olympic squads. His parents are from The Sudan and he would have the option of trying out for the Sudanese Olympics squad. He was never a citizen of Jordan.
Grant is a Jamaican citizen and will attempt to make her native homeland's
always strong team.