VUU's Jones is burning up the track, aiming for Olympics
Fred Jeter | 2/12/2015, 7:50 p.m.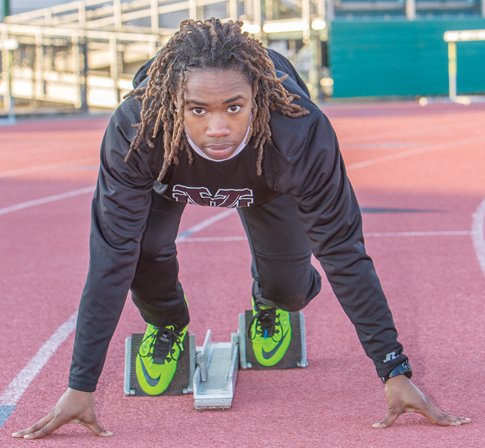 In years to come, law breakers will need to be in tiptop shape if they try to flee on foot from C'evon Jones.
Pronounced "Say-Von," C'evon is a junior criminal justice major and aspiring policewoman at Virginia Union University.
She's also among the fastest women in America.
Jones'goals include winning a NCAAsprint title, competing in the 2016 Olympics and fighting crime in her hometown of Pompano Beach, Fla.
"I come from an area where there is a lot of violence," she said. "I'd like to go back home and be a positive influence ... cleaning up the streets."
She's a young lady who can definitely lay down the law on the running track.
Currently, Jones ranks third in the NCAA Division II, clocking a blistering 7.49 seconds for 60 meters indoors.
Last winter, she finished fourth at the NCAA Indoor Championships.
When the starting gun fires, you'd think she was powered by rocket fuel.
"C'evon has one of the fastest starts I've ever seen," said VUU Coach Wilbert Johnson. "She's always in first coming out of the blocks."
Jones is undefeated this season with 60-meter victories in large invitational meets at Christopher Newport and George Mason universities and the University of Maryland.
At the University of Maryland, she outlegged women from 14 different schools, including many at Division I institutions.
One of 15 VUU track and field athletes from the state of Florida, Jones was third in the State AAA 100 meters as a senior at Blanche Ely High in Pompano Beach.
That is the same high school alma mater of the Panthers' sixth-year coach Johnson and former VUU track star G'Ana Robinson.
"I think it helped (in recruiting) that I was old friends with her track coach at Ely (Anthony Jordan) and that we have so many athletes from Florida," said Johnson.
"Also I have an aggressive style of recruiting. I'm not afraid to go after the very best."
Blanche Ely High, named after an African-American educator and social activist, originally was a segregated, all-black school.
The school has produced former NBA All-Star Eddie
Jones and 13 NFL football players, including current Arizona cornerback Patrick Peterson, and Clinton "C.J." Jones, who is C'evon's older brother.
C.J. Jones still holds the school's 400-meter record of 47.1 and starred as a wide receiver at the University of Iowa before playing in the NFL with Denver, Seattle, New England and Cleveland.
Another Ely graduate is the late Esther Rolle, famous for playing Florida Evans in the television shows "Maude" and "Good Times."
"Actually, Esther Rolle grew up in a house right around the corner from where I lived," said C'evon.
C'evon and C.J. Jones are cousins of San Francisco 49ers' receiver Anquan Boldin from Pahokee, Fla.
The tightly muscled 5-foot-3 Jones concentrates on 60 meters indoors and then 100 meters and the 4-x-100 relay during the spring.
As a freshman, she ran a leg on VUU's 400-meter relay team that took third at nationals. That foursome featured four women from Florida.
Along with Jones, the 2013 relay runners were S'Kaylah Woods, Cam'ree Jackson and G'Ana Robinson.
Bold-letter meets on the horizon are the CIAA Champion- ships Feb. 15-16 at Winston-Salem and the Nationals March 13-15 in Birmingham.
Jones has an opening on the top step on the podium. The CIAA and NCAA champ a year ago was senior Danielle Williams, a Jamaican native who competed for J.C. Smith University.
Jones' 7.49 clocking this winter ranks behind only New Haven's Ada Udaya and Nikia Squire of Queens, N.C.
"I need to get a little stronger, to be better at the finish," said Jones. "I've got the natural ability. Now I'm working
on technique and strength."
If all goes as planned, she'll race for a spot in the 2016 Summer Olympics in Rio de Janeiro. After that, it'll be time to start running down crooks in South Florida.