VUU's Chaz McKenzie named MVP of CIAA field events
Fred Jeter | 3/1/2016, 8:14 a.m.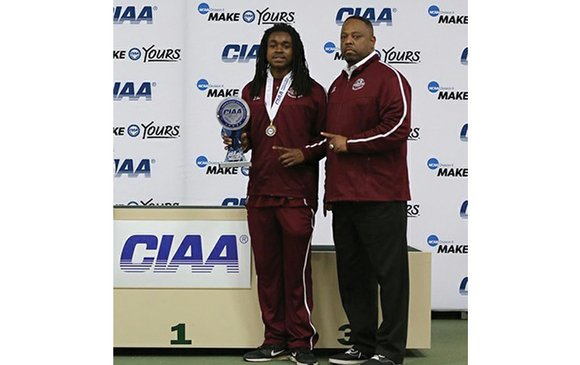 Chazton McKenzie is the master of multitasking at Virginia Union University.
The recent CIAA Indoor Track and Field Championships in Winston-Salem, N.C., served as a showcase for his versatility.
"Chaz isn't some average athlete. He's a great athlete," said VUU track Coach Wilbert Johnson.
McKenzie's academic major, business management, is apropos. He meticulously took care of business Feb. 14-15 at Winston-Salem's JDL Fast Track.
For starters, McKenzie won the long jump, sailing 23 feet, 10 inches into the sand, to nip teammate Matthew Ross.
He was just loosening up.
Then the ultralean 6-foot, 178-pound sophomore from Pompano Beach, Fla., went on to win the grueling seven-event heptathlon.
With dreadlocks flowing and muscles glistening, he placed first in the long jump (23' 3¼"), second in the high jump (6-5), second in the shot put (33' 7½") and fourth in the 60 meters (7:36) the first day.
After pausing to catch his breath, on day two he placed third in the 60 hurdles (8.84), fourth in the 1,000 meters (3:17.1) and sixth in the pole vault, an event he'd hardly practiced, at 8 feet 8¼ inches.
Last spring as a freshman, McKenzie set VUU's long jump record of 24 feet 6¼ inches.
Track and field represents just half of his athletic success on the Lombardy Street campus.
Wearing No. 86 for the Panthers football team, he caught 29 passes for 470 yards and five touchdowns last fall, helping VUU to its first NCAA bid since 1992.
A prime deep threat for quarterback Shawheed Dowdy, McKenzie had touchdown catch-runs of 54 yards against Virginia State University, 48 yards against Shaw University and 47 yards against Chowan University.
McKenzie saved seven catches for 71 yards during the Panthers' NCAA game at Slippery Rock University.
His rare blend of speed, strength, jumping ability and agility makes him a coverage nightmare for opposing players on the gridiron.
"My track experience is a definite help on the football field," he says.
So is McKenzie a track star who also plays football, or a football hero who runs track?
"I just go with the flow," he told the Free Press. "Whatever sport pops up first is what I enjoy most. My favorite sport is whatever is in season. I came (to VUU) for track, but Coach (Mark) James gave me a little bit of a chance in football. Now I love that, too."  
McKenzie's athletic scholarship is for both track and football, but weighted more heavily toward track.
For that, he'll pass on upcoming spring football to concentrate on outdoor track.
Coincidentally, Coach Johnson graduated from the same high school in Florida — Pompano Beach's Blanche Ely High School — as McKenzie and C'Evon Jones, VUU's national-caliber sprinter.
For his considerable achievement in Winston-Salem, McKenzie was named the CIAA Field Events MVP. It stands for Most Valuable Performer, but Most Versatile Panther also fits.