VUU's Justin Hunter combines physics with track
5/12/2017, 7:10 a.m.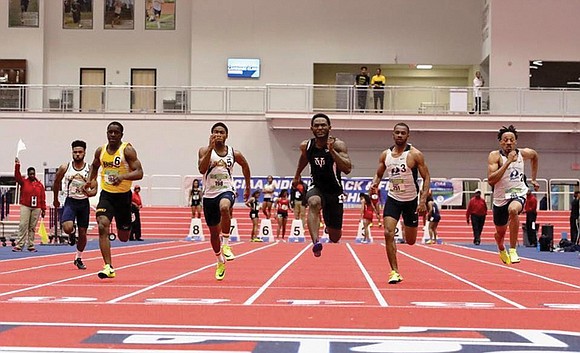 Virginia Union University's Justin Hunter excels with body and mind.
His favorite things include studying physics and participating in track and field events.
The ever-calculating Hunter connects physics, a new major at VUU, and the physical act of sprinting.
"One reason I changed to physics, after starting off in math, was to figure out how to run faster," the junior told the Free Press in a recent interview.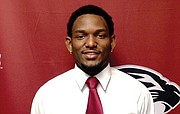 "It's like Newton's Second Law of Motion — force equals mass equals acceleration. The faster you apply force (stride) into the ground, the faster you go."
He also goes into it with lots of practice and weight training.
And then there's genetics. He mentions his father.
"He's real fast, too. He played sports in the military and got me into track."  
VUU track Coach Melissa Ferry puts it this way: "Justin has a very strong start. He generates lots of power with his stride and that helps."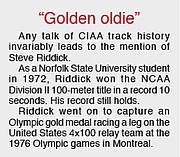 The muscular, 5-foot-8 Hunter, hailing from Pembroke Pines Charter High School in Miramar, Fla., has parlayed that explosive drive into multiple school records and CIAA titles.
He won the CIAA indoor title at 60 meters in 6.81 seconds last winter and added the conference's 100-meter crown with 10.63 this spring.
The fleet Hunter holds VUU school records in the 200 meters (21.1 seconds) indoors and outdoors and in the 400 meters outdoors (47.33 seconds).  
Hunter ran that 400-meter personal best on May 3 in Lynchburg, finishing an eyelash ahead of teammate Devin Simon, a freshman from Smithfield who clocked in at 47.39.
Both runners eclipsed the Panthers' record of 48.02 seconds set in 2015 by Jontue McDowell.
"The 400 time surprised me. I'm usually stronger at the shorter races," Hunter said. "Devin is really the star in that. I was just trying to beat him."
Hunter and Simon, along with Iyon Oravitz and Jordan Bolden, helped set VUU's 4x400 relay record this spring.
Hunter has at least one more meet, and perhaps two, this season.
He'll run the 400 Sunday, May 14, at the Last Chance Meet at North Carolina A&T State University.
After that, he hopes to qualify for NCAA Division II Nationals May 26 through 28 in Bradenton, Fla. Currently, he has only a provisional qualifying time with the 14th fastest 400 mark nationally.
NCAA qualifiers will be announced Tuesday, May 16.
Regardless, he's not through. He will return to VUU during the next school year with one season remaining of indoor track eligibility.
He plans to receive his degree in physics in the spring of 2018, then pursue a career in education and coaching.
Hunter was recruited to VUU by Panthers former Coach Wilbert Johnson, a native Floridian now coaching at Virginia State University.
"I didn't get serious about track in high school until my senior year," Hunter recalled. "I'm not really sure where Coach Johnson saw me. I just got an email out of nowhere."
Hunter ran under Coach Johnson at VUU but then transferred to Riverside Community College in California, where he competed one season.
He has blossomed since returning to VUU and working this winter and spring with Coach Ferry.
"Cool to me," he said of the coaching change. "No problems."
He spends much of his time training for track at Sport Backers Stadium, an off-campus facility the Panthers share with Virginia Commonwealth University, and in the classroom and library studying the laws of physics.
His spring workload included Physics 252. "It's mostly about motors, engineering and wiring," he said.
"What I'm most interested in is astrophysics, which is more about studying the motion of heavenly bodies: The sun, the stars, etc."
With Hunter's knowledge of physics, "wishing upon a star" just might result in shaving a few tenths of a second off his already blazing times.