VSU's Blair has eye on Olympic trials
Fred Jeter | 5/19/2018, 2:29 p.m.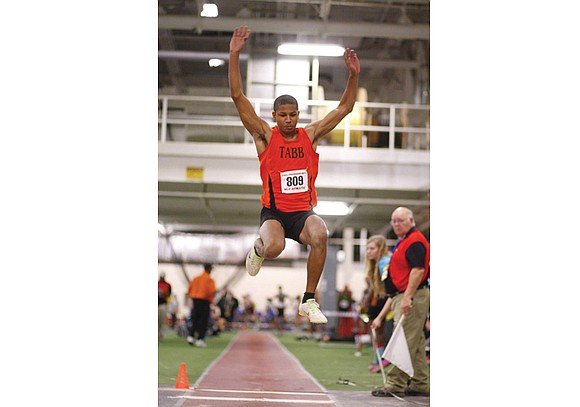 It will take a Herculean effort for anyone to upset the apple cart in the long-established, track and field events in the CIAA.
Virginia State University's Allen Blair appears up for the challenge.
The Trojans freshman, known as "Pace 99," has the speed, power and the chiseled physique to elevate Coach Wilbert Johnson's program to the next level.
"To excel in so many events is very unusual," Coach Johnson said. "Allen is a phenom,"
Quizzed about Blair's potential, Coach Johnson didn't hesitate, saying, "He can be an Olympian."
With his sculpted body and flying feet, Blair would qualify for the cover of Track & Field News or Muscle & Fitness magazine.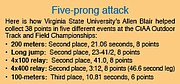 Not lacking for talent or confidence, Blair offered this about his goals: "By this time next year, I hope to have Olympic trials qualifying times. A couple years after that, I hope to sign pro."
From a team standpoint, few schools have ever dominated like St. Augustine's University, which has overpowered CIAA track and field.
The Falcons from Raleigh, N.C., have won 21 straight men's CIAA outdoor track and field championship titles and 38 of the last 40. But the most recent didn't come easily, largely because of Blair's brilliance in spikes.
VSU led by 26 points entering the final day of the two-day event May 5 and 6 in Bowie, Md., and finished a strong second in the tournament. The final scores: St. Augustine's 202, VSU 189.
Certainly Blair isn't intimidated by anyone. The 6-foot-2, 197-pound military brat from Yorktown's Tabb High School excels in about anything he tries, including a sport VSU doesn't offer — soccer.
In addition to track and field — he was the state high school 3A long jump champion last spring — Blair sparkled at Tabb as a soccer striker, collecting 15 goals as a senior.
Blair always doubled in spring, with track and soccer — never concentrating on either.
"This is the first time I've been able to focus on just track, and my times have really come down," Blair said.
He never played football, despite being the fastest kid in the school.
"My father was against it," Blair recalled. "He said, 'Why takes a chance on getting hurt and messing up something you know you can do?' "
In the 200 meters and the long jump, Blair and others on the Trojans team have qualified for the NCAA Division II Track and Field Championships to be held May 24 through 26 in Charlotte, N.C.
From a historical perspective, the fastest Trojan ever was John Christian, the 1977 and 1978 NCAA Division II 100 meter champ in 10.62 seconds and 10.30 seconds, respectively.
Christian also anchored the 1977 NCAA championship 4x100 relay, eventually qualifying for the Olympic trials in the 100.
Blair is chasing Christian's VSU 100-meter school record of 10.30. Blair already has set the Trojans' 200-meter standard at the CIAA meet.
Breaking records isn't uncommon for Blair, the son of Air Force officers Andrew and Valerye Blair. His father originally is from Texas, while his mother is a New York state native.
At Tabb High School, Blair erased all the spring and jump records held there by his older brother, William, who later competed at Christopher Newport University.
Coach Johnson, now in his second year coaching VSU men's and women's track programs, first spotted Blair as a Tabb junior at the William & Mary Colonial Relays.
"My first thought was, 'Who's that guy?' " Coach Johnson recalled. He was coaching at the time at Virginia Union University. "Then I said to myself, 'We've got to have him.' "
Blair first committed to Delaware State University before opting for VSU, where he is majoring in health sciences.
Coach Johnson said he has changed his recruiting strategy since moving from VUU to VSU. At VUU, a private institution, he concentrated primarily on Floridians in his home state. At state-supported VSU, he's looking more in state for talent.
With nearby athletes the likes of Blair, why not?