VSU stands tall going into CIAA tournament
Fred Jeter | 2/26/2015, 7:53 a.m.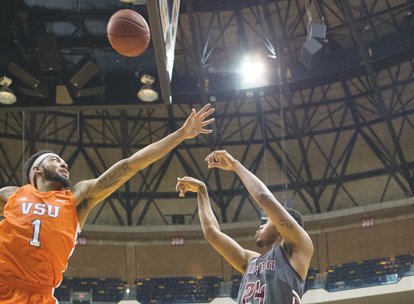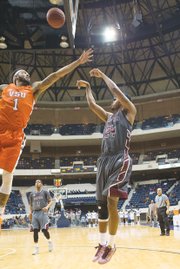 Virginia State University's front line measures 6-foot-10, 6-foot-8 and 6-foot-8. The Trojans stand tall in the CIAA standings as well.
Center Alphonso Leary, who is 6-foot-10, and 6-foot-8 forwards Tyrece Little and Elijah Moore complete one of the NCAA Division II's tallest front courts.
Trying to shoot inside against VSU is like trying to score in soccer against a net manned by three goalies. The Trojans led the CIAA in least points allowed (an average 64.6 per game) and lowest shooting percentage defense (38.6).
After a long lull, VSU is the second seed in the CIAA Northern Division and has high hopes for this week's CIAA tournament in Charlotte, N.C.
Coach Lonnie Blow's squad plays Fayetteville State University in the quarterfinals 1 p.m. Thursday, Feb. 26.
VSU's last CIAA title was in 1988. And the Trojans haven't made it the quarterfinals since 2009.
Here's a VSU personnel rundown:
• Little and senior guard Lamar Kearse made All-CIAA. Little was Defensive Player of the Year.
• Freshman guard Tyler Peterson made All-Rookie.
• Leary was fifth in CIAA shooting percentage (59.3).
• Sophomore Moore is coming on. The former two-time All-State 4A standout from Grafton High School in Portsmouth had 15 points and six rebounds while playing the full 40 minutes in VSU's final season game at Lincoln.
• Then there's the "X Factor," ball-handler Xavier Parham from Henrico County's Highland Springs High School where he played under Coach George Lancaster, a VSU Hall of Famer.
Fast finish: D'Andre Bullard hit his stride in the home stretch. The Virginia Union University senior guard by way of Florida A&M University averaged 20 points in the final seven games.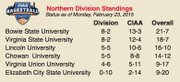 Bullard had 24 points in the regular season finale at Chowan University and tallied at least 20 points in five of the last seven outings. During that run, he was 50 for 85 from the field, 14 for 29 beyond the arc and 23 of 32 at the foul line.
Oldie but goodie: As it turns out, the CIAA's oldest player is also the best, at least in the eyes of the coaches.
Bowie State University's 27-year-old senior Cameron Knox, dubbed "Pop-Pop," was named Player of the Year after averaging 18 points for the Northern Division's top seed Bulldogs.
From Baltimore's W.E.B. DuBois High School, Knox was out of school and away from organized basketball some five years before enrolling at Bowie State.
The 5-foot-11 guard is on track to receive a degree in communications this spring.
Four-for-four: Winston-Salem State University senior WyKevin Bazemore is All-CIAA for the fourth straight year.
Averaging 13 points and 10 rebounds, the 6-foot-4 forward is the brother of current NBA Atlanta Hawk Kent Bazemore.
Four-year stars like WyKevin Bazemore have become rare in a league that has become top heavy with transfers.
Remember the Tigers: Saint Paul's dropped basketball following the 2010-11 season, but at least one former Tiger is still active.
Livingstone guard Eric Dubose, a 6-foot-1 native of Brooklyn, averaged 16 points (third in the league) and earned All-CIAA honors for the Southern Division top seed Blue Bears.