VSU, VUU poll third and fourth in CIAA basketball rankings
10/14/2014, 6 a.m.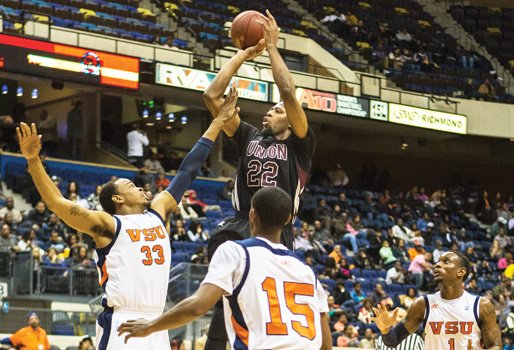 Virginia State University has been picked to finish third and Virginia Union University fourth in this season's CIAA Northern Division basketball chase.
Voting took place among conference coaches at a preseason meeting in Charlotte.
Transfer Alphonso Leary and senior guard Lamar Kearse of VSU were named preseason All-CIAA,while sophomore Ray Anderson of VUUwas tapped as well.
From Syracuse, N.Y., Kearse averaged 11.3 points in coach Lonnie Blow's first season with the Trojans.
Leary is a 6-foot-10 transfer from Howard University who sat out last season in Ettrick. In 2012-13, Leary averaged 5.2 points and 5.9 rebounds while playing 27.3 minutes per game. The Norfolk native was a three-year starting center for the Bison of the MEAC.
VUU's Anderson, from Wilmington, Del., averaged 14.9 points last season and was named CIAA Rookie of Year.
In team voting, Bowie State led the way in the Northern Division polling, followed by Lincoln, VSU, VUU, Elizabeth City and Chowan.
Defending CIAA champion Livingstone was picked to finish first in the Southern Division.